Pelargonium odoratissimum
Pelargonium odoratissimum (L.) L'Hér.
Family: Geraniaceae
Common names: sweet-scented pelargonium, peppermint pelargonium, apple-scented or apple-rose-scented geranium
Introduction
This is a lovely fragrant pelargonium suited to any scented garden.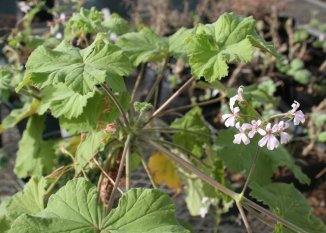 Description
Description
Pelargonium odoratissimum is a perennial and relatively flat-growing shrublet with a short thick main stem with extensive herbaceous flowering branches which are 60 cm in length. The plant rarely grows beyond a height of 30 cm. The main stem is coarse and scaly due to persistent bases of old stipules. The roots are somewhat tuberous.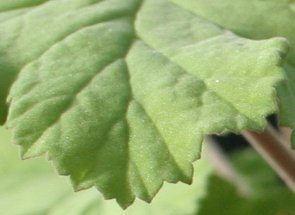 The leaves, 30-40 mm in diameter, are roundish to ovate -cordate with crenulate margins. They are apple green and covered with fine short hairs making them pleasant to touch. They have a strong apple-mint scent.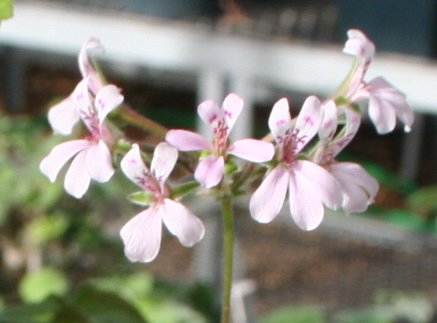 The flowers are pale pink and relatively small. This species flowers throughout the year except for midsummer.
Conservation Status
Status
Pelargonium odoratissimum is listed on the Red List of South African plants (Raimondo et al . 2009) as Least Concern. The species was considered Least Concern when it was evaluated against the five IUCN (International Union for the Conservation of Nature and Natural Resources, often referred to as World Conservation Union) criteria, and does not qualify for the categories Critically Endangered, Endangered, Vulnerable or Near Threatened.
Distribution and habitat
Distribution description
Pelargonium odoratissimum is common in the southern Western and Eastern Cape. Locality records have also been noted from the Lowveld of Mpumalanga and KwaZulu-Natal. It grows as undergrowth in forests or in shaded places protected by rocky ledges or taller bushes.
Derivation of name and historical aspects
History
William Henry Harvey, an Irish botanist, divided the genus Pelargonium into 15 sections. The indicative features for the different sections were based on leaf and flower characteristics and the habitat in which they occurred. Pelargonium odoratissimum is classified under the section Cortusina. This section consists of half- shrubs with fleshy, thick and short stems which have persistent stipules. The leaves are reniform (kidney-shaped) or cordate, silky or woolly, palmately lobed (like fingers on a hand) and are borne on lengthy petioles. The five petals are sub equal, the upper two being broader than the lower petals. The section contains well-known species such as P. reniforme and P. sidoides. People often refer to pelargoniums as geraniums.
The genus Pelargonium belongs in the family Geraniaceae, a large cosmopolitan family of approximately 11 genera and 800 species in subtropical and temperate family found in many regions of the world. The South African genera in the Geraniaceae family are Monsonia, Sarcocaulon, Pelargonium, Erodium and Geranium. There are approximately 270 species of Pelargonium which occur in S, E and NE Africa, Asia, St Helena, Tristan da Cunha, Madagascar, Australia and New Zealand, most of which (± 219 species) occur in southern Africa.
Pelargonium received its name from the resemblance of the shape of the fruit to the beak of a stork, which is pelargos in Greek. The specific name odoratissimus (Latin), most fragrant, refers to the sweet smell of the leaves. This species was introduced in 1724 into the United Kingdom where it was grown in the Chelsea Garden.
Ecology
Ecology
The seed is adapted to wind dispersal; it is light in weight and has a feathered, spiral, tail. When the seed lands and there is sufficient moisture in the soil, the tail becomes like a drill, twisting the seed into the soil so that the seed can anchor itself in the ground and prevent itself from being blown away, or carried away by moving animals.
Uses
Use
The essential oils of Pelargonium species that have scented leaves such as P.graveolens , P. tomentosum , P. denticulatum and P. odoratissimum have been found to have good antibacterial activity. The species can also be used for cosmetic, culinary, craft and aromatic preservatives . When gardening with Pelargonium odoratissimum one should bear in mind that it is best grown in a semishaded area of the garden. P. graveolens , P. grossularioides and P. tomentosum are also recommended for semishaded areas . The leaves are very aromatic, making this plant an excellent addition to any scented garden. Kids will take pleasure in the great sensory benefits these plants present. P. odoratissimum does well in containers and small spaces, and can be grown successfully indoors.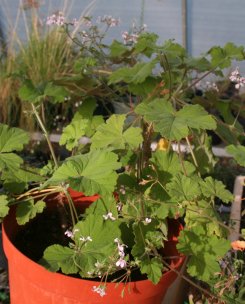 Growing Pelargonium odoratissimum
Grow
Pelargoniums are easily grown, fairly adaptable and most rewarding in any garden. Pelargonium cultivars have been gracing the balconies of buildings and gardens in the northern hemisphere for many years and have been rated as top garden plants. Pelargonium odoratissimum, like most other members of the genus, is easily grown from either seeds or cuttings. Cuttings are propagated at any time of the year but preferably after flowering and seeding. Take semi-mature stem cuttings 150 mm long and apply a rooting hormone to stimulate the rooting. Place the cuttings into a propagation tray with individual cavities. The cuttings are then placed in a cold-frame to root or a cool well lit area. The cuttings will root within 3 weeks. Once the cuttings have rooted, pot into a well-drained potting soil. Feed the newly rooted cuttings with a liquid seaweed-based fertilizer.
This pelargonium is a summer-rainfall species. Seeds are sown in spring, in a light, well-drained potting soil mixture. Spread the seeds evenly in the seed tray and cover them with a layer of clean white sand or fine-milled pine bark. The depth of sowing is usually one-and-a-half times the size of the seed. Water thoroughly but gently and provide light shade. Germination usually takes place within 4 weeks. Pelargoniums grown from seed are generally more vigorous than those made from cuttings. They do, however, tend to take longer to produce flowers. Plants grown from seed will show some degree of variation and if a particular form or variant is required it must be propagated vegetatively, by cuttings.
References
Bohnen, P., 1986. Flowering plants of the Southern Cape. The Still Bay Trust, Cape Town. Raimondo, D., Von Staden, L., Foden, W., Victor, J.E., Helme, N.A., Turner, R.C., Kamundi, D.A. & Manyama, P.A. (eds). 2009. Red List of South African plants 2009. Strelitzia 25. South African National Biodiversity Institute, Pretoria. Van Jaarsveld, E. 2001. Shaped by suffering. Veld & Flora 87 (1): 16-19. March 2001. Van der Walt, J.J.A. 1977. Pelargoniums of southern Africa . Purnell, Cape Town. Van der Walt, J.J.A. & Vorster, P.J. 1981. Pelargoniums of southern Africa, vol. 2 . Juta, Cape Town. Website: http://www.herbsociety.org/factsheets/Pelargonium%20Guide.pdf Website: http://www.plantzafrica.com/plantnop/pelargdent.htm
Credits
Trevor Adams
Kirstenbosch NBG
June 2012
Plant Attributes:
Plant Type: Shrub
SA Distribution: Eastern Cape, KwaZulu-Natal, Mpumalanga, Western Cape
Soil type: Sandy, Loam
Flowering season: Sporadic/All year
PH: Acid, Neutral
Flower colour: White
Aspect: Shade, Morning Sun (Semi Shade), Afternoon Sun (Semi Shade)
Gardening skill: Average
Special Features:
Fragrant
Good potplant
Horticultural zones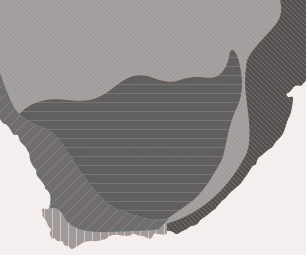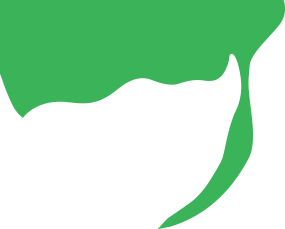 Zone 1 Coastal summer rainfall, frost free
Zone 2 Coastal winter rainfall, frost free
Zone 3 Winter rainfall Karoo, light frost
Zone 5 Bushveld summer rainfall, Light frost
Google QR Code Generator