Pelargonium quercifolium (L.f) L'Hér.
Family: Geraniaceae
Common names: oak-leaf pelargonium (Eng.); muishondbos (Afr.)
Introduction
Pelargonium quercifolium is an attractive shrub with oak-like foliage and flowers throughout the year; it adapts to any garden.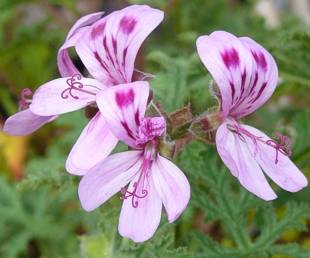 Description
Description
Pelargonium quercifolium is an erect, much-branched, strongly balm-scented, evergreen shrub, 1.75 m high, and 0.75 m wide. The stems of the plant are herbaceous when young but become woody when mature. The stems also display long, green glandular hairs when young, becoming brown at maturity. The aromatic leaves are palmately to pinnately incised and are sticky and hard to touch. The umbel-like inflorescence consists of 2 to 6 relatively large, pinkish purple to pale pink flowers. It flowers from August to January with odd flowering times throughout the year.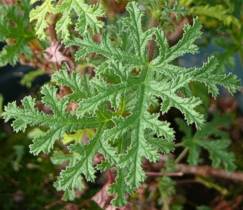 Conservation Status
Status
Pelargonium quercifolium is listed on the National Red List of South African plants as Least Concern (assessed February 2009, www.sanbi.org).
Distribution and habitat
Distribution description
Pelargonium quercifolium is one of about 270 species of Pelargonium, most of which occur in southern Africa, and of these most are found in the southwestern Cape. A few species are also found on a few Indian Ocean islands, in Australia, Syria and tropical Africa.
Pelargonium quercifolium is limited to small areas, namely the towns of Oudtshoorn and Willowmore. The annual rainfall in these areas is spread throughout the year and is relatively low. Summers are very hot and dry and some frost may be experienced during winter. This species is usually associated with karroid, sometimes Elytropappus or fynbos vegetation. It grows in rocky or broken landscape on sandstone, shale or even limestone. The plant has been recorded growing at altitudes of between 400 and 1 000 m.
Derivation of name and historical aspects
History
William Henry Harvey, an Irish botanist divided the pelargoniums into 15 sections. The diagnostic features for the different divisions were based on leaf and flower characteristics and habitat. Pelargonium quercifolium is classified under the section Pelargonium. The section Pelargonium consists of profusely branched, often woody shrubs. The section contains well-known species such as P. cucullatum, P. graveolens and P. capitatum which are also grown for the essential oils in the perfume industry. Pelargoniums are often incorrectly called geraniums.
Pelargonium gets its name from the resemblance of the shape of the fruit to the beak of a stork, which is pelargos in Greek. The species name quercifolium refers to some Quercus species, oak trees. Pelargonium quercifolium was first described in 1781 by Linnaeus jnr from material collected by Carl Thunberg. It seems probable that the plant material was gathered by Thunberg during his second visit to the Cape between September 1773 and January 1774. He was also accompanied by Francis Masson who introduced the species to England in 1774. Regardless of the plant being introduced early to the botanical world, it never gained much recognition as a horticultural subject.
Ecology
Ecology
The seed is adapted to wind dispersal. Once on the ground, the seed bores its way into the soil. This is possible by means of the corkscrew tail attached to the end of the seed. As the wind blows, so the corkscrew turns, much like a drill bit.
Uses
Use
The plant is an aromatic, stimulant herb that has a resinous scent. All parts of the plant are astringent. The plant is taken internally for the treatment of rheumatism, hypertension and heart disease. The plant can be harvested at any time and is used fresh in infusions. Essential oils are obtained from the plant, with a laudanum fragrance. The dried leaves of this species are added to potpourri and to insect-repellent sachets. The bruised or crushed leaves release a warm, pungent aroma rather like incense. Pelargonium quercifolium is ideally suited to an informal or small garden. It is an excellent accent plant and will grow well with plants such as Felicia sp., Lobelia valida or other herbaceous border plants and they make a striking colour combination when in bloom.
Growing Pelargonium quercifolium
Grow
Pelargoniums are easily grown and fairly adaptable plants. Pelargonium quercifolium, like most other members of the genus, can easily be grown from either seeds or cuttings. Cuttings can be taken at any time of the year but preferably after flowering and seeding. Take semi-mature stem cuttings, 150 mm long, and apply a rooting hormone to stimulate the rooting process. Place the cuttings into prepared holes made with a wooden dibber or a nail to avoid damaging the ends. The cuttings should be rooted in a cold frame, in a well-drained medium such as coarse river sand. Rooting will take place within four weeks. Once the cuttings have rooted, pot them in a well-drained potting soil mix. Feed the newly rooted cuttings with a liquid seaweed-based fertilizer.
Pelargoniums can also be grown from seed in late summer and early autumn. Sow the seeds in a light, well-drained potting soil mixture. Spread the seeds evenly in the seed tray and cover them with a layer of clean white sand or fine-milled pine bark. Sow the seed at a depth of 2-3 mm. Water thoroughly but gently and provide light shade. Germination usually takes place within 4 weeks. Pelargoniums grown from seed are generally more vigorous than those made from cuttings. They do, however, tend to take longer to produce flowers. Plants grown from seed will show some degree of variation and if a particular form or variant is required it must be propagated vegetatively by cuttings. This species has shown no signs of damage by any pest or disease while in cultivation at Kirstenbosch. This plant can grow easily in any garden as it is fairly adaptable. Prune frequently after blooming to control a sloppy growth habit. It is relatively fast-growing.
References
Van der Walt, J.J.A. 1977. Pelargoniums of southern Africa. Purnell, Cape Town.
Van der Walt, J.J.A. & Vorster, P.J. 1988. Pelargoniums of southern Africa, vol. 3. Kirstenbosch National Botanical Gardens, Cape Town.
Vorster, P. 1986. The Flowering Plants of Africa 49: t. 1923.
website: National Red List of South African plants (accessed February 2009). www.sanbi.org.
website: Plants for a future. http://www.pfaf.org/database/plants.php?Pelargonium+quercifolium.
Credits
Trevor Adams
Kirstenbosch National Botanical Garden
August 2009
Plant Attributes:
Plant Type: Shrub
SA Distribution: Eastern Cape, Western Cape
Soil type: Loam
Flowering season: Spring, Early Summer, Winter
PH: Acid, Neutral
Flower colour: Purple
Aspect: Full Sun, Morning Sun (Semi Shade), Afternoon Sun (Semi Shade)
Gardening skill: Easy
Special Features:
Attracts butterflies
Fragrant
Good potplant
Medical plant
Useful plant
Horticultural zones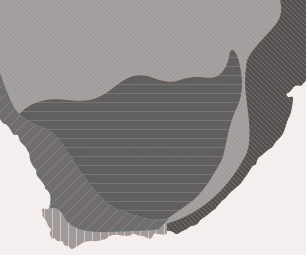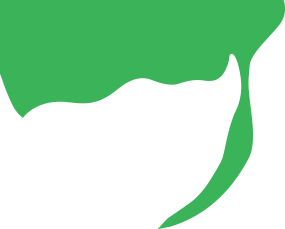 Zone 1 Coastal summer rainfall, frost free
Zone 2 Coastal winter rainfall, frost free
Zone 3 Winter rainfall Karoo, light frost
Zone 5 Bushveld summer rainfall, Light frost
Google QR Code Generator