Pelargonium rapaceum (L.) L'Hér.
Family: Geraniaceae
Common names: mountain potato (Eng.); bergpatat, bergaartappel, norra, norretjie (Afr.); !norra (Nama)
Introduction
This hardy geophytic pelargonium has attractive foliage, unusual flowers and makes an ideal plant for waterwise gardens in winter rainfall areas.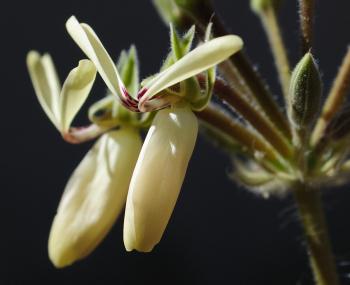 Description
Description
Pelargonium rapaceum is a winter-growing, perennial herb, that grows up to 400 mm high when in flower, with a large underground tuber from which it can resprout after fire. The carrot-like leaves are soft-haired, up to 400 mm long and 45 mm wide. Leaves are finely twice-divided into narrow segments, up to 1–3 mm wide and are usually dry when the plants are in flower.
There are up to 35 flowers per branching inflorescence. The peculiar white, yellow or pink flowers have two upper petals that bend backwards and are marked with dark red-purple stripes at the base. The three lower petals overlap, which is a characteristic of this species and gives the flowers a pea-like resemblance. The bergpatat flowers in summer, from late October to February and the seeds ripen during the driest and hottest months at the Cape.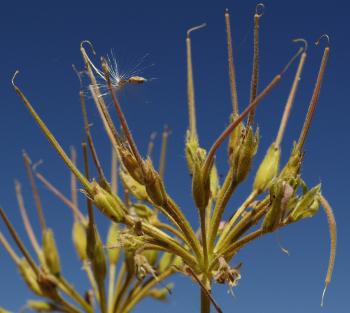 Conservation Status
Status
According to the Red List of South African Plants, checked on the 5 December 2016, the conservation status of Pelargonium rapaceum is Least Concern (LC) as the population is stable.
Distribution and habitat
Distribution description
Pelargonium rapaceum is one of the most common pelargoniums and has the widest distribution, from northern Richtersveld to Namaqualand, the Karoo, Eastern Cape and is very abundant in the Western Cape. The plants grow in a wide range of habitats in the Fynbos, Succulent Karoo and Nama Karoo Biomes. It is abundant in disturbed areas, such as in old ploughed lands and shallow soil over rocks. This plant grows in a wide range of soils from sandy, clay to very rocky and stony. In the Western Cape they readily colonise burnt mountainsides, but are mainly absent for mountainsides that are dominated by exotic vegetation.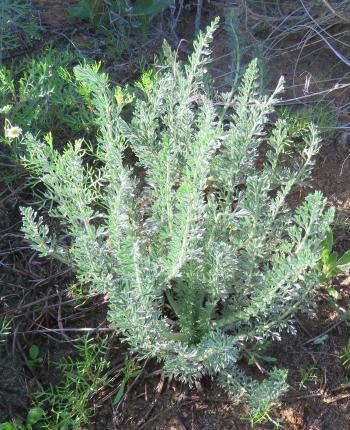 Derivation of name and historical aspects
History
The genus is named from the Greek pelargos, meaning 'a stork', which refers to the seed that resembles the beak of a stork. The specific epithet rapaceum, means 'turnip-like' and is from the Latin word rapum, meaning 'turnip' and refers to the turnip-shaped tuber.
There are about 270 species of Pelargonium, of which 220 species are found in southern Africa. 
Ecology
Ecology
Bee flies act as the pollinator of the unusual pea-like flowers. The seeds of pelargoniums are interesting as they have narrow, brown heads with spiral tails and are light in weight. This tail causes the seed to twist around in the wind and it drills itself into the soil in a corkscrew fashion, ensuring that most of the seeds produced, have a good chance of germinating.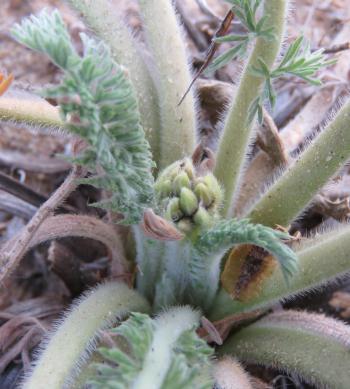 The leaves and flower stalks are hairy, this is an adaptation that reflects the sun and slows air movement over these areas, which reduces water-loss. Normally tubers of this species grow underground; however, they may be exposed occasionally when seedlings manage to take root in very rocky terrain. In such cases, the tubers are protected from drying out by numerous flaking periderms.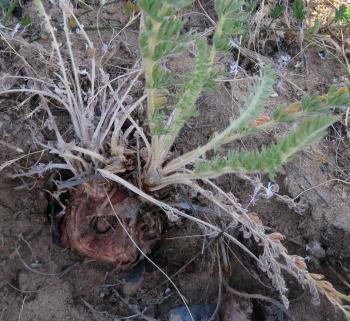 Porcupines often eat the tubers. The colony of the bergpatat near De Rust, is controlled by molerats which consume large numbers of tubers after rainfall, whereas the molehills provide beds of soft soil in which Pelargonium rapaceum seeds can germinate and some parts of the tuber left can resprout.
The colony of the bergpatat near Citrusdal is exposed to periodic fynbos fires. The fire clears the area of bushy shrubs and the ash after fire, creates ideal conditions for seeds to germinate. On the other hand, partially exposed large tubers with dry massed old petioles, ignite readily in the fires and are destroyed reducing the population.
Uses
Use
The large tubers are roasted in hot ashes and are very popular in Namaqualand as a staple food, which is where it gets its name bergpatat and bergaartappel meaning 'mountain potato'. The plant is also used medicinally as an anti-diarrhoeic.
Growing Pelargonium rapaceum
Grow
Pelargonium rapaceum grows easily from seed. Sow the seeds in autumn (April and May) in a sandy, well-drained soil medium. The medium needs to be kept moist until germination takes place in about 2 weeks, but this may be longer if temperatures are low. When the seedlings show signs of entering dormancy, the propagation trays should be kept dry until the following autumn, when watering should be resumed. Transplant the seedlings, after 2 years when the tubers are well developed.
Pelargonium rapaceum is well suited as a pot plant or for rockeries in parts of the world with winter rainfall and a mild climate. It can be planted with annuals such as the Namaqualand daisy (Dimorphotheca species), geophytes such as Brunsvigia orientalis, Babiana sambucina, Ferraria variabilis and Lachenalia mutabilis, succulents such as Euphorbia tuberosa and vygies such as Drosanthemum speciosum.
References
Craib, C. 2001. Geophytic pelargoniums. Umdaus Press, Cape Town.
Trinder-Smith, T. 2006. Wild flowers of Table Mountain. Botanical Society of South Africa, Cape Town
Van der Walt, J J A. 1977. Pelargoniums of South Africa. Purnell, Cape Town.
Van Rooyen, G. & Steyn, H. 1999. Cederberg Clanwilliam & Biedouw Valley South African wildflower guide 10. Botanical Society of South Africa, Cape Town.
Vlok, J. & Schutte-Vlok, A.L. 2010. Plants of the Klein Karoo. Umdaus Press, Hatfield.lo
Credits
Shireen Harris
Karoo Desert National Botanical Garden
December 2016
Plant Attributes:
Plant Type: Bulb, Perennial
SA Distribution: Eastern Cape, Northern Cape, Western Cape
Soil type: Sandy, Clay, Loam
Flowering season: Spring, Early Summer
PH: Acid, Neutral
Flower colour: White, Pink, Yellow
Aspect: Full Sun
Gardening skill: Easy
Special Features:
Drought resistant
Good potplant
Edible plant
Medical plant
Horticultural zones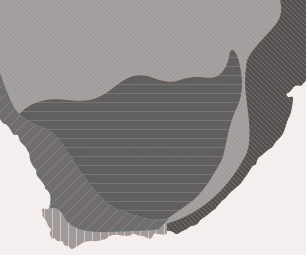 Zone 1 Coastal summer rainfall, frost free
Zone 2 Coastal winter rainfall, frost free
Zone 3 Winter rainfall Karoo, light frost
Google QR Code Generator