Penaea mucronata L.
Family: Penaeaceae
Common names: noughts-and-crosses (Eng.)
Introduction
A resprouting shrub, with branches coppicing from a woody base, triangular leaves and yellow to red flowers in spring and summer; found in fynbos, and common in frequently burned fynbos vegetation.
Description
Description
Penaea mucronata is an erect or ascending, multi-branched shrub, with an average height of 300–800 mm, occasionally up to 1 m, depending on where it is growing. It tends to grow taller if it grows on rocky, steep slopes, in areas that have been frequently burned, or where there is less competition with other plants for nutrients and moisture. The above-ground stems are destroyed when burnt, and then, from the woody base, new lateral branches will form. Its juvenile branches are slender and relatively covered with unicellular, conical, peg-like small hairs or protuberances (papillae).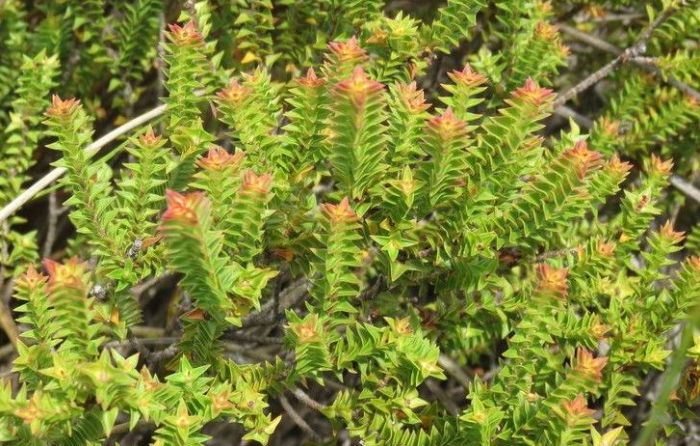 Penaea mucronata leaves are slightly triangular (heart- to lance-shaped), ovate, imbricate, glossy, thick and smooth, growing directly from the stem (sessile). They are variable in size, 3.0–8.0 × 2.5–6.0 mm below the inflorescence while on the thicker branches they are 12.5 × 9.0 mm or more. Their tips point outwards, with alternate and opposite pairs closely arranged around the stem, giving the stems a squared look. The leaf base is slightly cordate or rounded and the leaf apex relatively rigid, acuminate or less upcurved, nonetheless the apical half of the leaf is rarely closely flat, laterally incurved or keeled strongly. There are many stomata on the lower surface of the leaf, while the upper surface has none. The leaf size also depends on the environmental conditions, i.e. nutrient competition and moisture. Leaves growing on branches shooting after fire are, on average, twice as broad and as long as those growing on branches on normal growth i.e. not after fire.
This species flowers in spring and summer (from September to February). The inflorescence is a short spike of 4-petalled, yellow to red flowers at the ends of the branches. With or without terminal flowers, the terminal spike is slightly, shortly cylindrical, compact or ovate, with bracts which are rhombic or ovate and have pale, broad, occasionally bright reddish and frequently incurved sides. The lower bracts are 5.0–8.5 mm long and 5.0–9.5 mm broad with the upper bracts narrower. Penaea mucronata has slightly convex or incurved, acuminate or apiculate, linear bracteoles, which are pale yellowish or frequently bright reddish. The bracteoles of the upper flowers are smaller than those of the lower flowers, which are 3.0–4.5 mm long and 0.6–1.2 mm broad.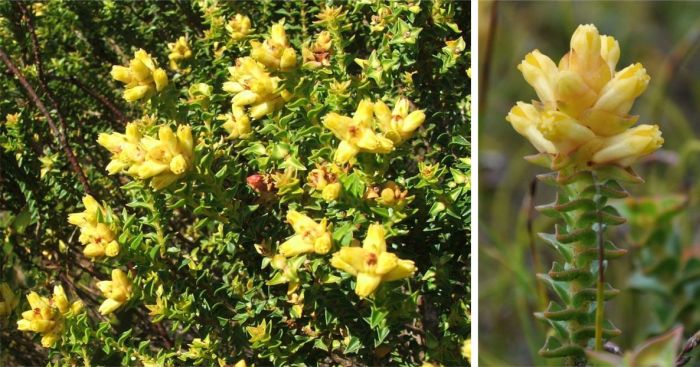 Penaea mucronata flowers have a very short pedicel. The perianth is erect, about 4.0–6.2 mm long, acute or subobtuse (not tapering or subulate) with a campanulate to cylindrical tube and triangular lobes. The perianth is pale, dull yellow, frequently purplish before it starts flowering. Stamens are free, filaments are 0.2–0.4 mm long, broadest in the basal part, with the connective body quadrate to broadly rectangular-ovate (1.4–2.1 mm long and 1.2–2.1 mm broad) and its apex slightly emarginated or sunken with sides turning inwards during and before it starts flowering. The style has 4 longitudinal, membranous wings and is cruciform at the tip. Fruit is a capsule, walls 5.0–6.5 mm long including style base and stipe and the seeds are 2.7 mm long.
Conservation Status
Status
Penaea mucronata is not threatened; it is assessed as Least Concern (LC) on the Red List of South African plants.
Distribution and habitat
Distribution description
Penaea mucronata is widespread on the rocky sandstone slopes in the southwestern and southeastern parts of the Western Cape, South Africa. Being common on the Cape Peninsula and parts of Somerset West, Bredasdorp and Caledon, it also grows as far as the Langeberg Mountains and east of Mossel Bay, while in the north of the southwest it grows in the east of Paarl on Du Toit's Kloof Mountain. The species is not present on the Cape Flats (which has been largely demolished by human settlement) and also on the mountains north-east of Breede River Valley. The dominant climate in its area of distribution is the Mediterranean climate with average temperatures varying between 7–15°C in winter and 15–25°C in summer, and the annual winter rainfall averages from 600—800 mm per annum.
Derivation of name and historical aspects
History
Penaea is a genus of evergreen and leathery-leaved flowering plants native to South Africa in a family called the Penaeaceae. This genus consists of 9 genera and 29 species. Its species are unique, they develop an embryo sac that, if it is found in another taxon, will be termed Penaea-type. During the development of the embryo sac, 4 nuclei are formed at each pole after 2 stages of mitosis leading to a mature embryo sac which contains 4, 3-celled polar groups.
The genus Penaea was named by Carl Linnaeus in 1753 after Pierre Pena (1520/1530–1600/1605), French physician and botanist who was assistant to Matthias de L'Obel, after whom the genus Lobelia is named. The species name mucronata is derived from a Latin word meaning 'with a sharp, hard point', referring to the leaf tip. The common name, noughts-and-crosses, comes from the distinctive cross-shaped stigma, which can be seen in fresh flowers.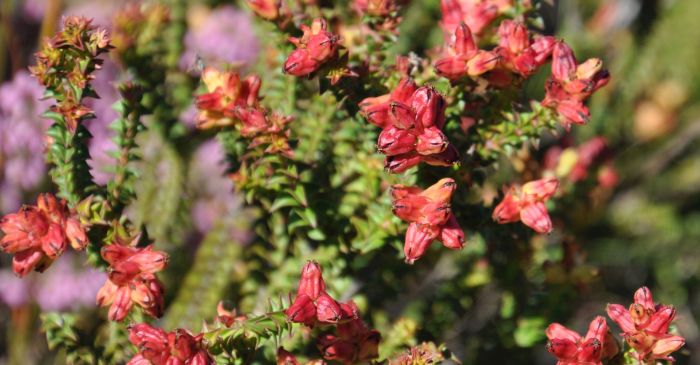 Ecology
Ecology
Penaea mucronata is largely restricted to the weathered sandstone or sandy soils of the Cape Sand Fynbos on the Table Mountain formations, growing occasionally on flat rocky ground or rocky mountain slopes associated with species like Erica, low species of Leucospermum and Leucadendron, and other typical low-growing fynbos species. It is also found on marine sand near Albertina and near Caledon, avoiding growing on limestone. The other area it also occurs is the reddish sandy soil mixed with clay between Corente River village and Riversdale.
This species is pollinated by sunbirds, the nectar is secreted at the base of the ovary. The pollen sacs rupture when touched and pollen is shed in the form of a little cloud. Seeds fall to the ground and may be picked up and carried by ants into their underground tunnels, although this has not been observed. Penaea mucronata is a resprouter, although the plant is burned during a fire, it will resprout and grow well after fire, with branches propagating from the main stem.
Uses
Use
There are no known magical or medical uses associated with Penaea mucronata, however, it can add value to a fynbos garden or to a fire-related restoration project.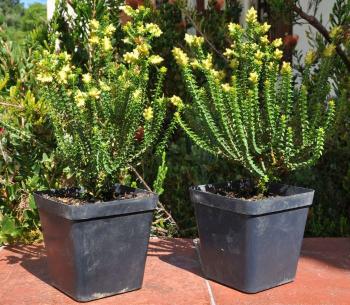 Growing Penaea mucronata
Grow
Penaea mucronata is grown for the fynbos garden beds at Kirstenbosch. Although it is not used in horticulture, it is easily cultivated from seed but very difficult from cuttings, which are best taken as heel cuttings specifically selected from the plant's branches that grew right after fire.
The seeds should be sown in late summer, autumn or spring. Germination will be triggered by the application of smoke, either by placing them in a smoke tent or soaking in a solution of smoke water, which mimics the positive effects of fire on fynbos in nature. Seeds are sown onto a well-drained, fynbos soil mix, consisting of a combination of river sand and well decomposed pine bark in equal proportions. Seed germinates in about 4–6 weeks. The seedling will develop from the cotyledon stage until it has true leaves, when the seedlings should be transplanted into small individual pots. Young seedlings are encouraged to grow by feeding weekly with a diluted organic fertilizer.
Penaea mucronata may be rooted from cuttings in autumn or spring, and even other times of the year, although it is difficult. They are rooted in multi-trays, washed and cleaned with a disinfectant, such as Terminator, to kill excess bacteria, placed on heated benches with a temperature of 22–25°C and placed under mist spray running every 15 minutes for 5 seconds, to keep the medium moist, and the leaves cool and moist. Experience has shown that the only way to successfully root cuttings, is to take heel cuttings from the above-ground stem next to the rootstock, in the morning. Cuttings may only be collected when one has a valid permit from the relevant authorities, such as Nature Conservation, Cape Nature or SANPARKS and with the landowner's agreement where applicable. A powdered, root-stimulating hormone is used to propagate 5–7 cm long cuttings. Visible flower parts are removed, and the cuttings are dipped into a seaweed extract solution, such as Kelpak, before propagation. The cuttings are placed in a medium suitable for fynbos plants, such as a mixture of fine-milled bark and perlite. The excess powder should be allowed to stay on the cutting where it is placed in the moist medium, by first making a thin hole with a sterile wire and then placing the cutting in it. The tray with cuttings will be labelled and then placed in the propagating house. The cuttings root after 8 to 12 weeks, are hardened off for a week in a shady area and then potted into 2 kg plant bags using fynbos soil mix (e.g. pine bark mixed with river sand with nutrients suitable for fynbos). They must be watered regularly, and be given organic fertilizers once a month for increased growth, and can be planted in the garden when ready.
Penaea mucronata has not been cultivated extensively, and experience may be limited to Kirstenbosch National Botanical Garden and Fernkloof Nature Reserve. Kirstenbosch is still experimenting with the best cultivation methods. It is best suited to fynbos gardens, and must be grown in well drained, sandy soil in a sunny, well-ventilated position, with fynbos companions such as Erica, Metalasia, Stoebe, Leucadendron, Leucospermum, Protea and restios, with as little disturbance of the roots as possible, such as growing it amongst rocks or in rockeries on slopes.
References
Charters, M.L. 2006–2016. The Eponym Dictionary of South African plants. Published online at http://www.calflora.net/southafrica/1Titlepage.html
Clarke, H. 2013. Common wild flowers of Table Mountain & Silvermine. Struik, Cape Town.
Dahlgren, R. 1971. Studies on Penaeaceae VI. The genus Penaea L. Opera Botanica 29: 21–32.
Foden, W. & Potter, L. 2005. Penaea mucronata L. National Assessment: Red List of South African Plants version 2020.1. Accessed on 2021/04/26.
Kordyum, E.L. & Mosyakin, S.L. 2020. Endosperm of angiosperms and genomic imprinting. Life 10(7): 104.
Manning, J. 2007. Field guide to Fynbos. Struik Publishers, Cape Town.
Millington, A., Blumler, M. & Schickhoff, U. 2011. The SAGE Handbook of Biogeography. SAGE Publications. p. 143.
Credits
Kamogelo Solomon Modimola
Kirstenbosch National Botanical Garden: MSc Candidate (University of Cape Town, Dept. of Environ. & Geo. Sciences)
June 2021
Acknowledgements: Mrs Erica (Siqamo Yeko) for her continuous support.
Plant Attributes:
Plant Type: Shrub
SA Distribution: Western Cape
Soil type: Sandy, Loam
Flowering season: Spring, Early Summer, Late Summer
PH: Acid
Flower colour: Red, Yellow
Aspect: Full Sun
Gardening skill: Challenging
Special Features:
Attracts birds
Drought resistant
Horticultural zones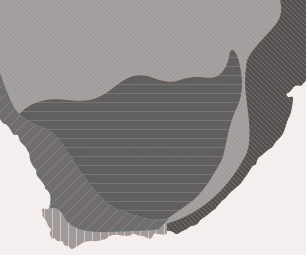 Zone 2 Coastal winter rainfall, frost free
Zone 3 Winter rainfall Karoo, light frost
Google QR Code Generator