Plants of the Week Advanced Search
Search results for "Rhizophoraceae" (displaying 2 of 2 on page 1)
Refine your search
Sort by date added
Sort Alphabetically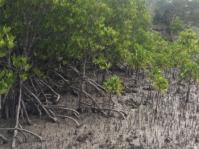 Common names:
red mangrove (Eng.); rooiwortelboom (Afr.); umhlume, umngombamkhonto (Zul.); umhluma (Xho.)
... point on the apex found in the red mangrove.   Rhizophoraceae has about 16 genera and 149 species worldwide in tropical and ...
11 / 12 / 2017 | Mpendulo Gabayi | Kirstenbosch NBG
Read More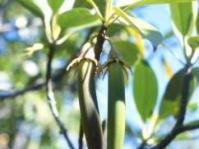 Common names:
black mangrove (Eng.); swartwortelboom (Afr.); isiKhangazi, isi Hlobane (isiZulu); isiKhangathi (isiXhosa); m'tumansi, setaca (Mozambique, language un
... swamp. There are 15 genera and 120 species in the family Rhizophoraceae, of which four genera and 10 species are in southern Africa. ...
24 / 10 / 2005 | Hugh Glen | KwaZulu-Natal Herbarium
Read More