Plants of the Week Advanced Search
Search results for "Santalaceae" (displaying 4 of 4 on page 1)
Refine your search
Sort by date added
Sort Alphabetically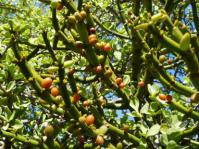 Common names:
Spekboom mistletoe, Spekboom-voelent
01 / 12 / 2013 | Ernst van Jaarsveld | Kirstenbosch NBG
Read More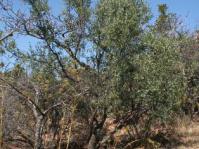 Common names:
rock tannin-bush, transvaal sumach (Eng.); bergbas, rotslooibas (Afr.); intshakasa, ingondotha-mpete (Zulu); umbulunyathi (Zulu/Xhosa); intekeza, utek
26 / 09 / 2011 | M.S. Mothogoane | National Herbarium Pretoria
Read More
Common names:
Cape sumach, coast tannin bush (Eng.); wildepruim, wurgbessie, basbessie, kuslooibas, namtarri (Afr.); mtekaaza, umbalanythi (Xhosa); umbulanyathi (Zu
... of the plants. As with the other member of the Santalaceae family, the Cape Sumach parasitises nearby plants by means of root ... genus Colpoon , and its South African relatives in the Santalaceae, Osyris and Rhoiacarpos . In 1961, a study by Stauffer ...
29 / 05 / 2006 | Werner Voigt | Kirstenbosch NBG
Read More
Common names:
Cape sumach, coastal tannin bush ( Eng.); wildepruim, wurgbessie, basbessie, kuslooibas (Afr.); mtekaaza, umbalanythi (Xhosa); umbulanyathi (Zulu)
29 / 05 / 2006 | | Kirstenbosch NBG
Read More