Plants of the Week Advanced Search
Search results for "Acokanthera" (displaying 2 of 2 on page 1)
Refine your search
Sort by date added
Sort Alphabetically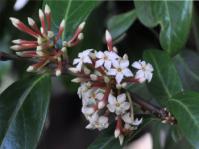 Common names:
dune poison-bush (Eng.), duinegifboom, gewone gifboom (Afr.) inhlungunyembe, ubuhlungu-benyoka, umhlangashiso (isiZulu), intlungunyembe, inxinebe (isi
... widely distributed from the Cape to Arabia. This species, Acokanthera oblongifolia, grows in the coastal dune forest ... A. oblongifolia is suspected to be pollinated by moths. Acokanthera This tree can be planted in coastal gardens, as ... old common name 'poisonous to dogs'. The genus name Acokanthera is also derived from Greek and refers to the ...
31 / 07 / 2017 | Mpendulo Gabayi | Kirstenbosch NBG
Read More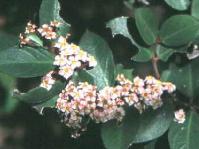 Common names:
Bushman's Poison; Boesmansgif (Afrikaans); inHlungunyembe (Zulu); iNtlungunyembe (Xhosa)
... of the country with the exception of the drier parts. Acokanthera The Bushman's poison is a hardy drought and frost ... cuttings in the months of September to October. The name  Acokanthera  is derived from the Greek and refers to the ... is one of three South African members of the genus,  Acokanthera . It belongs to the same family as many popular ...
27 / 08 / 2001 | Andrew Hankey | Walter Sisulu NBG
Read More