Plants of the Week Advanced Search
Search results for "Aeollanthus" (displaying 2 of 2 on page 1)
Refine your search
Sort by date added
Sort Alphabetically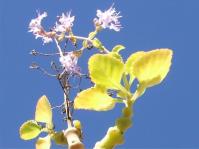 Common names:
Otjihipa rock-sage (Eng.); Otjihipa-klipsalie (Afr.)
... occur in granite rock crevices. The habitat preference of Aeollanthus haumannii in the Kaokoveld is both afromontane and semi-desert. ... consists of granite (Fransfontein Granite Suite). Aeollanthus haumannii shares its habitat with the following plants. ...
03 / 09 / 2018 | Ernst van Jaarsveld | Kirstenbosch NBG
Read More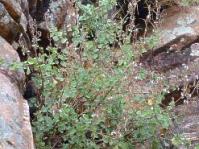 Common names:
rock sage (Eng.), klipsalie (Afr.)
... small seeds ( usually 4 nutlets per calyx). Aeollanthus parvifolius is essentially a montane and cliff-dwelling species. ... clean break when it is dry, releasing the seeds. Aeollanthus The species is easily propagated from cuttings throughout the ...
28 / 02 / 2005 | Ernst van Jaarsveld | Kirstenbosch NBG
Read More