Plants of the Week Advanced Search
Search results for "Ammocharis" (displaying 2 of 2 on page 1)
Refine your search
Sort by date added
Sort Alphabetically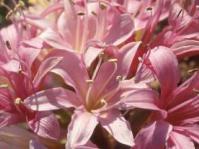 Common names:
Malgas lily (Eng.); seeroogblom (Afr.)
... the wind in a tumbling fashion to aid seed dispersal. Ammocharis is not known to be palatable as the plants possess toxic compounds. Ammocharis The plants can be grown from seed, which should be sown as soon ...
16 / 08 / 2004 | Werner Voigt | Karoo Desert NBG
Read More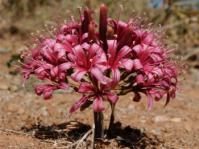 Common names:
karoo lily, koranna lily, sore eye flower, bible flower, ground lily (Eng.); berglelie, gifbol, seeroogblom (Afr.); boka (Sesotho); isidiya, icukudo,
... Desert National Botanical Garden November 2017 Ammocharis coranica is a summer-growing, deciduous bulb and grows to a height ... Leaves lie flat on the surface of the soil. Ammocharis coranica has a rounded inflorescence of pink or reddish pink, ...
20 / 11 / 2017 | Ricardo Riddles | Karoo Desert NBG
Read More