Plants of the Week Advanced Search
Search results for "Apodolirion" (displaying 2 of 2 on page 1)
Refine your search
Sort by date added
Sort Alphabetically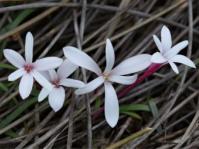 Common names:
Amy's apodolirion (Eng.)
... the author thanks Mr Tony Dold for images. Apodolirion amyanum has a globe-shaped bulb, with a diameter ranging from 12 ... thicket, where it grows in fine, soft sand. Apodolirion amyanum grows very well under the rush-iris, Bobartia ...
21 / 09 / 2020 | Pamela Nondumiso Sgatya | CREW
Read More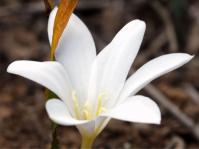 Common names:
spiralled leaf ground lily, MacOwan's ground lily
... protects the developing seeds from the summer heat. Apodolirion At the Kirstenbosch National Botanical Garden nursery, A. ... and the flowers only appear for 2 days. Apodolirion means 'stemless flower' in Greek, alluding to the almost ...
04 / 11 / 2019 | Pamela Nondumiso Sgatya | CREW
Read More