Plants of the Week Advanced Search
Search results for "Argyrolobium" (displaying 5 of 5 on page 1)
Refine your search
Sort by date added
Sort Alphabetically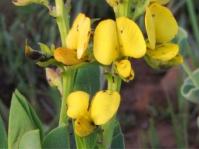 Common names:
liquorice bean (Eng.), soethoutbossie (Afr.), umuzimuka (Zul.)
... Dr M.M. le Roux National Herbarium, Pretoria January 2022 Argyrolobium robustum is an erect, sparsely branched, ... compressed, light brown and sometimes recalcitrant (wet). Argyrolobium robustum is commonly across Mpumalanga and ... Dohne Sourveld and Ngongoni Veld. Like other species of Argyrolobium , A. robustum is most likely insect pollinated. ...
31 / 01 / 2022 | Thembeka Malwane | Millennium Seed Bank Partnership
Read More
... thanks Sedzani Simali and Marianne Le Roux for the images. Argyrolobium rupestre is a low-growing perennial, with a ... Flowers in spring to late summer (September to February). Argyrolobium rupestre is found in the summer rainfall region ... approaches the coast on the high lying areas. Flowers of Argyrolobium rupestre are probably pollinated by bees, as ...
08 / 04 / 2019 | Robetta Kandawire | National Herbarium Pretoria
Read More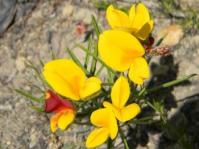 Common names:
Paarl Fire Pea
... spring to early summer (September to December). The genus Argyrolobium Eckl. & Zeyh. is a large legume genus of almost ... tropical Africa to the Mediterranean region and India. Argyrolobium angustissimum is endemic to the Boland Granite ... the yellow flowers turn reddish brown after pollination. Argyrolobium angustissimum is considered to be a fire ...
27 / 08 / 2018 | Randall Josephs | Compton Herbarium
Read More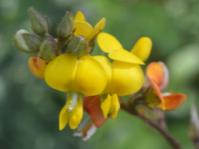 Common names:
velvety yellow bush pea (Eng.); umadlozana, umlomomnandi (isiZulu)
... Lowveld National Botanical Garden September 2016   Argyrolobium tomentosum is an evergreen, erect or scrambling, ... smooth and dark brown when mature.  The main habitat of Argyrolobium tomentosum is savanna, woodland, forest margins, ... temperature of 25ºC, as it does not survive severe frost. Argyrolobium tomentosum flowers are mainly pollinated by ...
19 / 09 / 2016 | Bulannga Mufhati | Lowveld NBG
Read More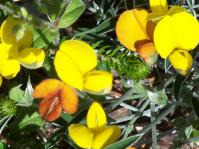 ... Harold Porter National Botanical Garden July 2012 Argyrolobium lunare is a sprawling herbaceous perennial, ... occurs from August to February. Both subspecies of  Argyrolobium lunare  grow on low altitude slopes below 300 m ... making them easier for pollinators to see and get to. Argyrolobium This is a very pretty, low-growing plant with a ...
23 / 07 / 2012 | Jane Forrester | Harold Porter NBG
Read More