Plants of the Week Advanced Search
Search results for "Aristea" (displaying 3 of 3 on page 1)
Refine your search
Sort by date added
Sort Alphabetically
Common names:
Blue stars (Eng.); blousterre (Afr.); umhushuza (IsiZulu)
... NBG Sthembile Zondi KwaZulu-Natal NBG October 2013   Aristea ecklonii is a frost-hardy perennial, growing in ... roots system. The fruit is an oblong 3-angled capsule. Aristea ecklonii can take 2 to 3 years to reach its ultimate height. Aristea ecklonii is found in the Eastern Cape, KwaZulu-Natal, ...
01 / 10 / 2012 | Sthembile Zondi | KwaZulu-Natal NBG
Read More
Common names:
windowed aristea
... of Rare & Endangered Wildflowers ( CREW) April 2009 Aristea biflora is a perennial geophyte. The flattened stem ... to translucent bronze windows on the lower margins. Aristea biflora is characterized by its long, linear anthers; ... The genus Aristea is confined to the continent of Africa and Madagascar ...
06 / 04 / 2009 | Vathiswa Zikishe | CREW
Read More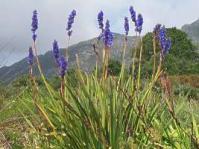 Common names:
blue sceptre (Eng.); blousuurkanol (Afr.)
... quite attractive, turning a rich brown colour. Underground Aristea capitata has a rhizome from which the plants often resprout after fire. In the genus  Aristea  there are approximately 55 species distributed ... but unfortunately not all of them are easy to grow. Aristea Aristea capitata is wonderful plant for gardens in ...
01 / 11 / 2000 | Liesl Van der Walt | Kirstenbosch NBG
Read More