Plants of the Week Advanced Search
Search results for "Aristea" (displaying 3 of 3 on page 1)
Refine your search
Sort by date added
Sort Alphabetically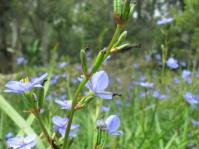 Common names:
Blue stars (Eng.); blousterre (Afr.); umhushuza (IsiZulu)
... NBG October 2013   Aristea ecklonii is a frost-hardy perennial, growing in clumps up to 50 cm ... roots system. The fruit is an oblong 3-angled capsule. Aristea ecklonii can take 2 to 3 years to reach its ultimate height. ...
01 / 10 / 2012 | Sthembile Zondi | KwaZulu-Natal NBG
Read More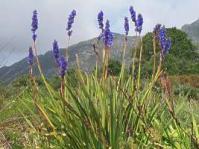 Common names:
blue sceptre (Eng.); blousuurkanol (Afr.)
... quite attractive, turning a rich brown colour. Underground Aristea capitata has a rhizome from which the plants often resprout after fire. In the genus  Aristea  there are approximately 55 species distributed throughout Africa and ...
01 / 11 / 2000 | Liesl Van der Walt | Kirstenbosch NBG
Read More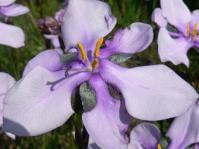 Common names:
windowed aristea
... Wildflowers ( CREW) April 2009 Aristea biflora is a perennial geophyte. The flattened stem reaches a height ... to translucent bronze windows on the lower margins. Aristea biflora is characterized by its long, linear anthers; further ...
06 / 04 / 2009 | Vathiswa Zikishe | CREW
Read More