Plants of the Week Advanced Search
Search results for "Bauhinia" (displaying 5 of 5 on page 1)
Refine your search
Sort by date added
Sort Alphabetically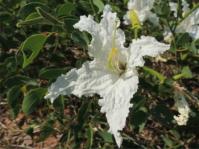 Common names:
Kalahari bauhinia, Kalahari camel's foot, coffee neat's foot (Eng.); kalaharibauhinia, kalaharibeesklou, koffiebeesklou (Afr.); motsantsa, mogotswe
... Kirstenbosch National Botanical Garden September 2018 Bauhinia petersiana subsp. macrantha is an evergreen shrub or ... is usually a large shrub or small tree over 2 m. Bauhinia petersiana occurs quite frequently, from Tanzania in ... because they regard it as an irresistible delicacy. Bauhinia This tree will grow well in drought prone areas. Its ...
17 / 09 / 2018 | Benjamin Festus | Kirstenbosch NBG
Read More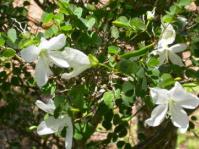 Common names:
Natal bauhinia (Eng.); Natalsebeesklou (Afr.)
... completely divided, nearly semi-circular lobes and in Bauhinia natalensis they are delightful miniatures, being ... Whitebellied sunbirds are regular visitors to the flowers. Bauhinia Bauhinia natalensis will grow in full sun or in semi-shade. ...
13 / 02 / 2006 | Cherise Viljoen | Kirstenbosch NBG
Read More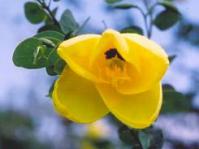 Common names:
Yellow Bauhinia (Eng) Geelbeesklou (Afr): IsiThibathibana (Zulu)
... butterfly species, with the larvae feeding on the leaves. Bauhinia Bauhinia tomentosa is deciduous, but can be evergreen in mild ... replenishing the layer as regularly as possible. The genus Bauhinia honours brothers from the 16th century, Johann and ...
16 / 05 / 2005 | Lou-nita LeRoux | Lowveld NBG
Read More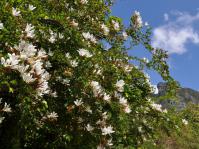 Common names:
Kei Bauhinia, Kei White Bauhinia (Eng.), Keibeesklou (Afr.), umDlandlovu (Xhosa)
... Garden December 2001 updated September 2016     Bauhinia bowkeri is a much-branched, scrambling, woody shrub ... x 20-50 mm wide on petioles approx. 15 mm long. The Kei bauhinia flowers profusely during spring and summer (October ... season's pods often remain on the bush for some time. Bauhinia bowkeri is a rare endemic of the thicket or valley ...
24 / 12 / 2001 | Alice Notten | Kirstenbosch NBG
Read More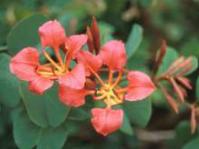 Common names:
Pride of De Kaap (Eng); Vlam-van-die-Vlakte (Afr).
... beautifully coloured butterflies, favour this species. Bauhinia The pride of De Kaap is easy to cultivate and ... this scrambling shrub is a summer delight in many gardens. Bauhinia galpinii N.E.Br. 208.2 Bauhinia galpinii The long flexible branches of this tree are ...
12 / 02 / 2001 | Andrew Hankey | Walter Sisulu NBG
Read More