Plants of the Week Advanced Search
Search results for "Berchemia" (displaying 2 of 2 on page 1)
Refine your search
Sort by date added
Sort Alphabetically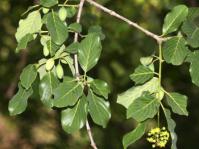 Common names:
birdplum, brown ivory (Eng.); bruinivoor, voëlpruim (Afr.); mogokgomo (Sepedi); nyiyi, nyiri (Xitsonga); motsintsila (Setswana); munie (Tshivenda), n
... National Herbarium, Pretoria February 2016 Berchemia discolor is a medium to large, deciduous or evergreen tree, up to ... to July. It is sometimes confused with Berchemia zeyheri (red ivory), which is a smaller tree with more grey-green ...
29 / 02 / 2016 | M.S. Mothogoane | National Herbarium Pretoria
Read More
Common names:
red ivorywood, purple ivory, pink ivory (Eng.); rooi-ivoor, rooihout (Afr.); monee (Sesothosa Leboa); umNeyi (siSwati); xiniyani (Xitsonga); moye (Set
... to April.   Another related tree is Berchemia bicolor (brown ivory), which also bears edible fruit but differs in ... the bark, which can cause damage to the tree. Berchemia Red ivorywood grows easily from seeds. Seeds should be cleaned by ...
30 / 05 / 2005 | Avhurengwi Phillemon Ndou | Walter Sisulu NBG
Read More