Plants of the Week Advanced Search
Search results for "Berkheya" (displaying 4 of 4 on page 1)
Refine your search
Sort by date added
Sort Alphabetically
Common names:
East Griqualand African thistle, East Griqualand berkheya (Eng.); Griekwaland-Oos-bergdissel (Afr.)
... a large, corymbose panicle inflorescence. The leaves of Berkheya griquana grow up to approximately 180 x 30 mm in ... has hairs only along the leaf veins. Fig. 2. Leaves of Berkheya griquana. The flower head is daisy-like, ... are approximately 2.5-4 mm in length. The flowers of Berkheya griquana are about 12 mm in length and radiantly ...
27 / 02 / 2023 | Kaveesha Naicker | CREW
Read More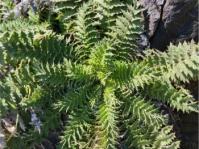 Common names:
spiny berg thistle, thorny mountain thistle (Eng.); doringrige-bergdissel (Afr.); mohatollo ntsoa-ntsane-ea-loti (seSotho); imboziso emhlophe, ukhakha
... the author thanks sis Ndileka Jaxa for providing articles. Berkheya multijuga is a perennial herb that grows up to 1.8 m ... Flowering is in mid to late summer (Dec. to Mar.). Berkheya multijuga is not endemic to South Africa, it also ... about 1 800-3 200 m altitude, in Drakensberg Grassland. Berkheya multijuga is pollinated by bees and flies. Berkheya ...
18 / 07 / 2022 | Sibahle Gumede | Millennium Seed Bank Partnership
Read More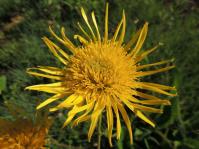 Common names:
buffalo-tongue thistle (Eng.); rasperdissel, rasperdisseldoring (Afr); ikhakhasi, ulimi-lwenkomo, ulimi-lwenyathi (isiZulu); indlebe-lenkomo (isiXhosa
... in spring to late summer (September to February). Berkheya setifera is found growing in colonies in grassland, ... among tall grasses, especially in areas that are grazed. Berkheya setifera seeds are easily blown and dispersed by ... growing in the KwaZulu-Natal National Botanical Garden. Berkheya Berkheya setifera is grown from seed that is sown in ...
24 / 02 / 2020 | Bathabile Ndlovu | KwaZulu-Natal NBG
Read More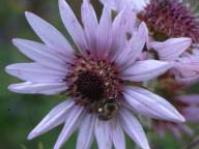 Common names:
purple berkheya (Eng.); bloudisseldoring (Afr.); Sehlohlo (SS)
... January 2005   A fast-growing, long-lived perennial, Berkheya purpurea has a long, single taproot and forms a ... wings running down the stem-an interesting feature of Berkheya purpurea . The strong flower stem is produced in ... a single plant can have up to 15 flowers open at one time. Berkheya purpurea grows naturally along streams and on steep, ...
31 / 01 / 2005 | Liesl Van der Walt | Kirstenbosch NBG
Read More