Plants of the Week Advanced Search
Search results for "Bersama" (displaying 2 of 2 on page 1)
Refine your search
Sort by date added
Sort Alphabetically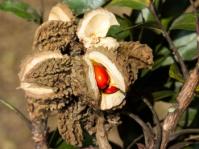 Common names:
white ash, common white ash, common bersama, forest white ash, bitterbark, wild quinine tree (Eng.); witessenhout, gewone witessenhout, basternieshout
... Ntshangase KwaZulu-Natal Herbarium July 2018 Bersama tysoniana is a shrub or a small to medium-sized tree, usually 3 to 10 ... summer, autumn and winter (February to August). Bersama tysoniana  is indigenous to southern Africa, where it is distributed ...
30 / 07 / 2018 | Nonkululeko Ntshangase | KwaZulu-Natal Herbarium
Read More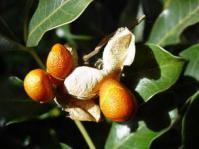 Common names:
glossy white ash (Eng.); blinkblaarwitessenhout (Afr.); isindiyandiya (Xhosa); undiyaza (Zulu)
... National Botanical Garden July 2007 Bersama lucens is a small to medium-sized tree, of 3 to 10 m high. The leaves ... half covered in a fleshy, yellowish aril. Bersama lucens occurs from the northeastern Cape to KwaZulu-Natal, ...
09 / 07 / 2007 | Giles Mbambezeli | Kirstenbosch NBG
Read More