Plants of the Week Advanced Search
Search results for "Berzelia" (displaying 4 of 4 on page 1)
Refine your search
Sort by date added
Sort Alphabetically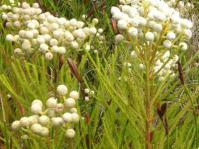 Common names:
redlegs (Eng.); rooibeentjies, vleiknoppiesbos, kolkol, fonteinbos (Afr.)
... Bank Partnership December 2012     Berzelia abrotanoides is a densely leaved, erect shrub, growing to ... winter to early summer (August-November). Berzelia abrotanoides occurs in flat damp places and seepages, along stream ...
03 / 12 / 2012 | Victoria Wilman | Millennium Seed Bank Partnership
Read More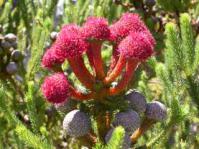 Common names:
rooistompie (Afr.)
... National Botanical Garden August 2007 Berzelia  stokoei is an upright, resprouting shrub, which grows to a ... of 15 mm across from November to April. Berzelia  stokoei occurs from the Hottentots Holland Mountains to ...
06 / 08 / 2007 | Berenice Carolus | Harold Porter NBG
Read More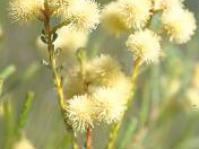 Common names:
common button bush, common berzelia (Eng.); vleiknoppiesbos, vleikolkol, kolkolbos (Afr.)
... Roger Tuckeldoe Kirstenbosch NBG March 2005 Berzelia lanuginosa is an evergreen shrub that grows up to 2 m high. It has ... or two. The natural distribution of Berzelia lanuginosa is from the northwestern to the southwestern parts of ...
07 / 03 / 2005 | Roger Tuckeldoe | Kirstenbosch NBG
Read More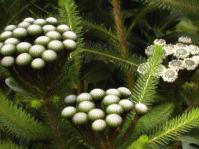 Common names:
coffee-scented berzelia, coffee bush, white-flowered brunia (Eng.); knopbossie, fonteinbossie, stompies (Afr.)
... April 2004 (Updated February 2010) Berzelia albiflora  is a tall, slender, single-stemmed but well-branched ... late summer to autumn (February-April). Berzelia albiflora  is endemic to the Western Cape and occurs from the ...
26 / 04 / 2004 | Alice Notten | Kirstenbosch NBG
Read More