Plants of the Week Advanced Search
Search results for "Bowiea" (displaying 2 of 2 on page 1)
Refine your search
Sort by date added
Sort Alphabetically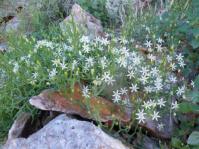 Common names:
white-flowering bowiea, white bowiea, Gariep bowiea (Eng.); lopertjie (Afr.)
... the surface minutely tuberculate. Fig. 2. Flowers of Bowiea gariepensis growing in the Botanical Society Conservatory, Kirstenbosch NBG. Bowiea gariepensis flowers in autumn and winter (May to ... 30°C. Winters are cooler but frost is absent. Plants of Bowiea volubilis subsp. gariepensis are either solitary or ...
15 / 05 / 2023 | Ernst van Jaarsveld | Kirstenbosch NBG
Read More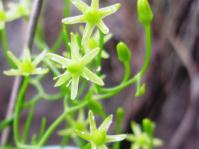 Common names:
climbing onion, climbing green lily, bowiea (Eng.); knolklimop (Af.); ugibisisila; iguleni (isiZulu); umgaqana (isiXhosa); gibizisila (siSwati)
... Wildflowers (CREW) Programme: KZN node March 2011 Bowiea volubilis subsp volubilis is a deciduous climber which ... form of a brownish oval capsule, about 25 mm in diameter. Bowiea volubilis subsp volubilis occurs in the eastern parts ... or on steep rocky hills usually in well-shaded situations. Bowiea volubilis subsp volubilis tolerates wet and dry ...
14 / 03 / 2011 | Suvarna Parbhoo | CREW
Read More