Plants of the Week Advanced Search
Search results for "Bowkeria" (displaying 3 of 3 on page 1)
Refine your search
Sort by date added
Sort Alphabetically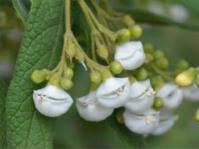 Common names:
northern shellflower, escarpment shellflower (Eng.); noordelike skulpblombos, platorand-skulpblombos (Afr.); luchwimi (Siswati)
... forest, at 610–1 980 m altitude. The flowers of Bowkeria cymosa produce oil which attracts many insects, ... Rediviva bees, that use oil as food for their larvae. Bowkeria It is frost hardy and grows well in moist areas. For ... area, under mist unit with no direct sunlight. The genus Bowkeria is named after Col. James Henry Bowker (1822–1990) ...
04 / 09 / 2017 | Tumelo Mofokeng | Pretoria NBG
Read More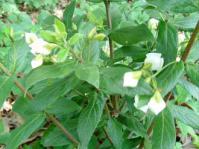 Common names:
Southern Shell-flower, Natal Shell-flower Bush (Eng.); Suidelike Skulpblombos, Natalse Skulpblombos (Afr.); umBaba, isiPhambathi (Zulu); isiDuli, iGqa
... Kwazulu-Natal National Botanical Garden December 2010   Bowkeria vercillata is a multi- or single-stemmed shrub about ... the foliage makes a dense screen with a smell like other Bowkeria species. The pure white, scented flowers (20 mm ... the dust-like seed will remain on the plant for some time. Bowkeria verticillata is found on forest edges and ...
27 / 12 / 2009 | Lufuno Konanani | KwaZulu-Natal NBG
Read More
Common names:
yellow shell-flower bush (Eng.); geelskulpblombos (Afr.)
... KwaZulu-Natal National Botanical Garden June 2008   Bowkeria citrina is a multi-stemmed shrub about 3 m tall, ... ellipsoid seeds. Flowering and fruiting sometimes overlap. Bowkeria citrina is found along streambanks and on forest ... the coast as it dies off during the humid summer months. Bowkeria citrina is pollinated by the oil-collecting bee ...
09 / 06 / 2008 | Isabel Johnson | KwaZulu-Natal NBG
Read More