Plants of the Week Advanced Search
Search results for "Brachylaena" (displaying 5 of 5 on page 1)
Refine your search
Sort by date added
Sort Alphabetically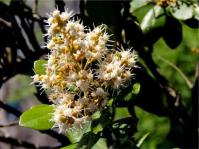 Common names:
malbar, malabar silver-oak (Eng.); malbarboom, malblaar (Afr.); umphahla-wehlathi, amacirha (Xhosa); umphahla (Zulu)
... to Geoff Nichols for sharing his experience of growing Brachylaena glabra , and to Brian du Preez, Graham Grieve and ... to their length, and it has paler bark than B.neriifolia. Brachylaena glabra occurs along the coast of the Eastern ... sandstone outcrops and escarpment edges near the coast. Brachylaena glabra flowers are visited by bees and other ...
10 / 02 / 2020 | Siphesihle Precious Sibiya | Kirstenbosch NBG
Read More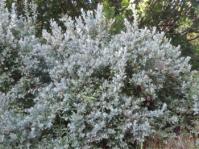 Common names:
mountain silver-oak, Transvaal silver-tree (Eng.); bergvaalbos, bergvaalboom (Afr.); moswane (Tsw)
...                              Brachylaena rotundata is not endemic to South Africa; it also ... but the younger leaves are often observed eaten by game. Brachylaena This tree is very hardy, wind resistant and does ... grow relatively fast and are easy to transplant. The name Brachylaena is derived from the Greek word brachus , which ...
14 / 05 / 2018 | Benjamin Festus | Kirstenbosch NBG
Read More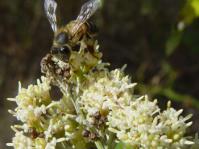 Common names:
bitterleaf, bitterleaved silver-oak, fire-sticks (Eng.); bitterblaar, suurbos (Afr); isiduli; isagqeba, umphahla (IsiXhosa); isiduli-ehlathi, igqeba-e
... Kirstenbosch National Botanical Garden December 2016 Brachylaena elliptica grows into a small tree or a large ... and other small insects are also attracted to this plant Brachylaena Propagate from seed or heel cuttings. The cutting ... also very water-wise, wind and frost-hardy and evergreen. Brachylaena is a genus of flowering plants in the aster ...
19 / 12 / 2016 | Sisanda Alakhe Velembo-Mhlauli | Kirstenbosch NBG
Read More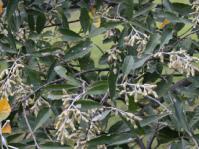 Common names:
forest silver-oak (Eng.); bosvaalbos, vaalboom (Afr.); umPhahla, iPhahla (Sw, Z); mphahla (NS); mufhata (V)
... Le Roux Lowveld National Botanical Garden April 2012 Brachylaena transvaalensis is an evergreen tree, although it ... and other insects. Young leaves are browsed by bushbuck. Brachylaena Propagation takes place either by seed or ... dense clusters of whitish flowers from July to September. Brachylaena transvaalensis E.Phillips & Schweick. 731 ...
09 / 04 / 2012 | Lou-nita LeRoux | Lowveld NBG
Read More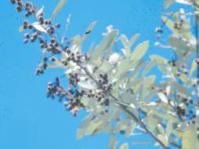 Common names:
Coast silver oak (E), Kusvaalbos (Afr.), Phahla (isiZulu), Mphahla (N.Sotho), umPhahla (isiXhosa)
... Kirstenbosch national Botanical Garden January 2003 Brachylaena discolor forms a dense, wide, spreading, single ... hairs, and is ripe in summer (November to January). Brachylaena discolor occurs in coastal woodland, bush and on ... Its natural inclination is to form a dense bushy shrub. Brachylaena Brachylaena discolor is fast and easy to grow and ...
06 / 01 / 2003 | Norma Jodamus | Kirstenbosch NBG
Read More