Plants of the Week Advanced Search
Search results for "Bulbinella" (displaying 3 of 3 on page 1)
Refine your search
Sort by date added
Sort Alphabetically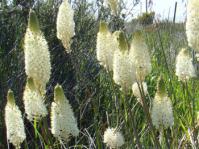 Common names:
bleekkatstert (Afr.)
... and occasionally in sandy soils amongst restios. Bulbinella eburniflora often is visited by moths, due to its ... the plants can tolerate some drought and also light frost. Bulbinella The best way to propagate Bulbinella eburniflora is from seeds. Sow seed in autumn, ...
30 / 03 / 2015 | Eugene Marinus | Hantam NBG
Read More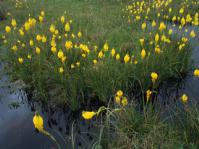 Common names:
bulbinella (Eng.); katstert (Afr.)
... B. rossii (Hook.f.) Cheeseman 24. B. talbotii L.B. Moore Bulbinella has an interesting and unusual, highly disjunct ... B. eburniflora , and may also play a role in pollination. Bulbinella The New Zealand species of the genus have enjoyed ... water plants lightly during the dormant season. The name Bulbinella was first proposed by Kunth. The genus was named ...
19 / 03 / 2012 | S Boatwright | Compton Herbarium
Read More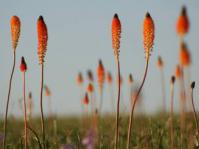 Common names:
rooikatstert
Ismail Ebrahim CREW Ismail Ebrahim CREW August 2010   Bulbinella latifolia plants are up to 1 m high with numerous ... 6.5 mm long and 3.75 mm wide. There are four subspecies of Bulbinella latifolia :  Subsp. latifolia has leaves with ... of this small town boast the highest concentration of Bulbinella species: eight altogether. Bulbinella latifolia ...
09 / 08 / 2010 | Ismail Ebrahim | CREW
Read More