Plants of the Week Advanced Search
Search results for "Callilepis" (displaying 2 of 2 on page 1)
Refine your search
Sort by date added
Sort Alphabetically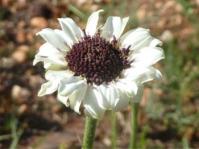 Common names:
wild daisy (Eng.); bergbitterbossie (Afr.); imphila (siSwati)
... Alec Naidoo and Andrew Hankey for capturing the images of Callilepis leptophylla used in this article and also to Paul Herman for providing the literature. Callilepis leptophylla is an aromatic perennial herb that ... the season when not many other perennials are in flower. Callilepis leptophylla is widespread in the eastern part of ...
28 / 10 / 2019 | T.T. Masupa | National Herbarium Pretoria
Read More
Common names:
Ox-eye Daisy (eng.); Wildemargriet (Afr.); mila (Sw); amafuthomhlaba, ihlamvu, impila (Z)
... Desiree Marimuthoo KwaZulu-Natal Herbarium March 2008   Callilepis laureola is perennial herb with tufts of stems ... from near sea level to 1800 m. Grows in open grassland. Callilepis Collect seed from the dry seed heads. Tug at the ... Nichols for information on propagation methods. The genus Callilepis is endemic to southern Africa. Callilepis means ...
24 / 03 / 2008 | Desiree Marimuthoo | KwaZulu-Natal NBG
Read More