Plants of the Week Advanced Search
Search results for "Canthium" (displaying 4 of 4 on page 1)
Refine your search
Sort by date added
Sort Alphabetically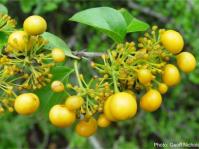 Common names:
armed turkey-berry, false turkey-berry (Eng.); valsbokdrol, basterbokdrol (Afr.); umphembedu, umvuthwamini, isikhwakwane-inkomazi (isiZulu); mufhaladz
... Nichols for sharing his photographs and experience growing Canthium armatum . A shrub or small tree, 1–4 m up to 10 m ... visiting the flowers (Geoff Nichols, pers. comm. 2023). Canthium Canthium armatum is relatively easy to grow from seed. ...
06 / 03 / 2023 | Mulweli Maswoliedza | Compton Herbarium
Read More
Common names:
thorny turkey-berry, coastal turkey-berry, coastal canthium, thorny rock-alder (Eng.); doringklipels, doringbokdrol (Afr.); ubuchopho benja, isiphamba
... become invasive. Birds use these plants as nesting sites. Canthium Canthium spinosum is easily propagated by seed. Collect ... is best grown in frost free regions and along the coast. Canthium was named by Jean-Baptiste Lamarck in 1785 in ...
16 / 07 / 2018 | Cathbert Makgakga | National Herbarium Pretoria
Read More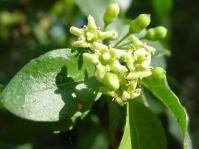 Common names:
hairy turkey berry (Eng.); harige bokdrol (Afr.); mulume-khoda (Venda); umnyushulumbe, umdakane, ubuchopho (Xhosa, Zulu), mvutfwamini (Swati).
... wrinkled, resembling goat or sheep droppings (Feb - May). Canthium ciliatum flowers & leaves © G. Nichols Occurs from ... and in scrub on rocky outcrops on grassy mountain slopes. Canthium No published information is available on the cultivation and propagation of Canthium ciliatum. It is not grown commercially and there is ...
24 / 01 / 2011 | Beate Hölscher | National Herbarium Pretoria
Read More
Common names:
turkey-berry; common turkey-berry; criss-cross turkey-berry; Cape date (Eng.); gewone bokdrol; doringels (Afr.); umvuthwamini (Xhosa, Zulu); umnyushul
... . C. suberosum is also less extensive in its distribution. Canthium inerme is a relatively common species with a wide ... known to attack more mature plants (Von Breitenbach 1965). Canthium Canthium inerme is relatively easy in terms of propagation ...
12 / 07 / 2004 | Jan-Hakon Burring | Kirstenbosch NBG
Read More