Plants of the Week Advanced Search
Search results for "Carissa" (displaying 3 of 3 on page 1)
Refine your search
Sort by date added
Sort Alphabetically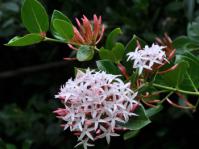 Common names:
simple-spined num-num, climbing num-num, small num-num, (Eng.); enkeldoringnoemnoem, ranknoemnoem, kleinnoemnoem (Afr.); mothokolo (North Sotho); mur
... Sisulu National Botanical Garden June 2012 Carissa edulis is a much branched spiny evergreen shrub or small tree, ... refuge for small animals and reptiles like snakes. Carissa It can be propagated from both seeds and cuttings. Fill a tray with ...
25 / 06 / 2012 | R Malatjie | Walter Sisulu NBG
Read More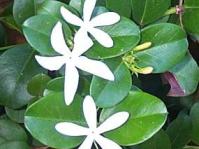 Common names:
Natal plum, big num-num (Eng.); grootnoem-noem (Afr.); Amatungulu (Zulu)
... Cape northwards through Kwazulu-Natal to Mozambique. Carissa Plant 1 m apart to form a dense, impenetrable hedge in full sun to ... frost if planted in a protected spot. The name Carissa is derived from the Sanskrit corissa , the name of one of the ...
29 / 03 / 2004 | Berenice Carolus | Harold Porter NBG
Read More
Common names:
forest num-num (Eng.); bosnoemnoem (Afr.); isibethankunzi, isabetha (Zul.)
... find fruit and flowers on the same plant. Carissa bispinosa is found in wooded areas from the southwestern parts of the ... marked variation throughout the distribution range. Carissa Carissa bispinosa is a fast-growing, medium-sized, evergreen ...
15 / 03 / 2004 | Stoffel Petrus Pieter Bester | National Herbarium Pretoria
Read More