Plants of the Week Advanced Search
Search results for "Carpobrotus" (displaying 4 of 4 on page 1)
Refine your search
Sort by date added
Sort Alphabetically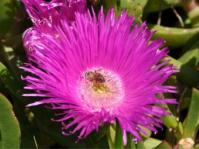 Common names:
delicious sour fig, sweet sour fig (Eng.); suurvy, perdevy, gaukum (Afr.); igcuthuma (Xho.)
... Kirstenbosch National Botanical Garden March 2022   Carpobrotus deliciosus is a robust, evergreen, succulent, ... and pollen. Fruits are globose, fleshy and indehiscent. Carpobrotus deliciosus is native to South Africa, it occurs ... zones with warm temperatures and a Mediterranean climate. Carpobrotus deliciosus flowers are rich in nectar and they ...
21 / 03 / 2022 | Anam Cimi | Kirstenbosch NBG
Read More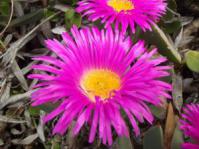 Common names:
West Coast sour fig, eland sour fig (Eng.); Weskus suurvy, elandsvy (Afr.)
... Karoo Desert National Botanical Garden February 2014     Carpobrotus quadrifidus is a robust succulent perennial with ... dry out with age but never open as in most other mesembs. Carpobrotus quadrifidus is found on coastal rocks, sandy ... and several small and large antelope. The dense stands of Carpobrotus quadrifidus form ideal micro-habitats for several ...
17 / 02 / 2014 | Werner Voigt | Karoo Desert NBG
Read More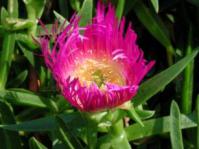 Common names:
Natal sour fig (Eng.), Natalse suurvy/strandvy (Afr.), Ikhambi lamabulawo (Zulu)
... Nonjinge KwaZulu-Natal National Botanical Garden June 2007 Carpobrotus dimidiatus is a robust, trailing plant with ... Cape northwards through KwaZulu-Natal to Mozambique. Carpobrotus This species is very easy to propagate from ... spring, but they can be left dry for the rest of the year. Carpobrotus is not suitable for small gardens unless kept ...
11 / 06 / 2007 | Siyabulela Nonjinge | KwaZulu-Natal NBG
Read More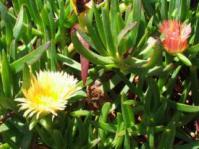 Common names:
sour fig, Cape fig, Hottentots fig (Eng.); ghaukum, ghoenavy, Hottentotsvy, Kaapsevy, perdevy, rankvy, suurvy, vyerank, (Afr.); ikhambi-lamabulawo, um
... mm in diameter, and occurs in the Du Toitskloof Mountains. Carpobrotus edulis grows on coastal and inland slopes from ... and other snakes such as the Cape Cobra are often found in Carpobrotus clumps where they ambush the small rodents that ... antelopes and people, who also disperse the seeds. Carpobrotus   Carpobrotus edulis is easy to grow, one of ...
23 / 01 / 2006 | Christien Malan | Kirstenbosch NBG
Read More