Plants of the Week Advanced Search
Search results for "Chlorophytum" (displaying 3 of 3 on page 1)
Refine your search
Sort by date added
Sort Alphabetically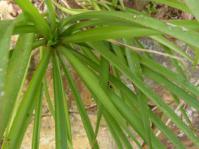 Common names:
cliff spider plant, cliff hen and chickens (Eng.); krans hen-en-kuikens (Afr.)
... style 15 mm long, curving upwards, with a minute stigma. Chlorophytum cremnophilum flowers mainly during late spring ... roots and stems makes the plant drought tolerant. Chlorophytum Chlorophytum cremnophilum is easily grown in cultivation both out of doors ...
03 / 08 / 2015 | Ernst van Jaarsveld | Kirstenbosch NBG
Read More
Common names:
weeping anthericum (Eng.); watergras (Afr.)
... Pretoria May 2013   Chlorophytum saundersiae is a gregarious (growing in groups or ... long thin roots without tubers (tubers are found in other Chlorophytum species such as C. comosum `hen-and-chickens'). Leaves ...
13 / 05 / 2013 | A Johannsmeier | Pretoria NBG
Read More
Common names:
hen-and-chickens, spider plant (Eng.); hen-en-kuikens (Afr.); iphamba (Zulu)
... and shiny. Flowering period: During the summer months. Chlorophytum comosum is one of 38 Chlorophytum species in South Africa (Archer 2003) and is easily ...
05 / 11 / 2012 | | Kirstenbosch NBG
Read More