Plants of the Week Advanced Search
Search results for "Combretum" (displaying 11 of 11 on page 1)
Refine your search
Sort by date added
Sort Alphabetically
Common names:
large-fruited bushwillow, Zeyher's bushwillow (Eng.); raasblaar, fluisterboom (Afr.); moduba-tshipi (Sepedi); umbondwe wasembudwini (isi Zulu); mufh
... by Andrew Hankey Walter Sisulu NBG May 2015 Combretum zeyheri is a deciduous or semi-deciduous  tree of up to 10–15 m ... typically larger, bigger than those of any other species of Combretum; they are approximately about  80 mm long and 40 mm wide. Margins ...
25 / 05 / 2015 | Andrew Hankey | Pretoria NBG
Read More
Common names:
large-leaved forest bushwillow (Eng.); grootblaarvaderlandswilg (Afr.); iWaphu (Zulu); Mbondvo sehlatsi (Swazi)
... are known. The four wings that are characteristic of Combretum fruits may be assumed to play a role in the dispersal of seeds. ... role is, may be open to question, as the vast majority of Combretum fruits I have seen in the field, have fallen within a very small ...
14 / 02 / 2005 | Hugh Glen | KwaZulu-Natal Herbarium
Read More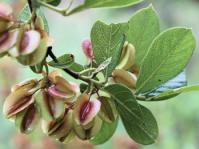 Common names:
Venda bushwillow (Eng.); vendaboswilg (Afr.); gopo-gopo, gopokopo-bani (Venda)
... National Botanical Garden September 2016   Combretum vendae is a multi-stemmed, deciduous shrub of 1.5–3.0 m high, ... predominates in the western part of its range. Combretum vendae is found in the South African Province of Limpopo, and is ...
19 / 09 / 2016 | Nomama Mei | Kirstenbosch NBG
Read More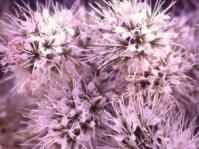 Common names:
knobbly creeper (Eng.); knoppiesklimop (Afr.)
... Africa. Most browsers enjoy feeding on this Combretum , and the larvae of the striped policeman and Guinea-fowl ... insect-eating birds such as the Brownheaded Kingfisher. Combretum Propagate it from seed or possibly from cuttings. It is ...
11 / 08 / 2003 | Pitta Joffe | Pretoria NBG
Read More
Common names:
velvet bush willow, velvet leaf willow (Eng.); fluweelboswilg, basterrooibos (Afr.); mokgwethe (North Sotho); iNkukutwane (Siswati); xikhukhutsane (Ts
... and on the Waterberg and Soutpansberg mountains. Combretum It germinates readily from fresh seeds not damaged by insects. ... a true radical develops under ground. The name Combretum was given by Pliny to a particular climbing plant, the identity of ...
31 / 10 / 2011 | T Masupa | National Herbarium Pretoria
Read More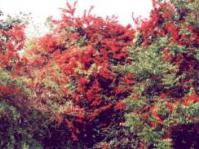 Common names:
flame creeper
... by Yvonne Reynolds June 2003 Combretum microphyllum is a robust, deciduous climber, sometimes a scrambling ... insects and nectar-eating birds, such as sunbirds. Combretum Combretums in general blend in well with many other garden ...
23 / 06 / 2003 | Y Reynolds | Lowveld NBG
Read More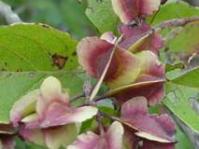 Common names:
forest bushwillow (Eng.), bosvaderlandswilg (Afr.), uhwabhu, umdubu-wehlathi (Zulu), ulandile (Xhosa), imbondvo-lemhlophe, umdvubu (Swazi), modlubu (N
... of air currents or wind. Some animals are known to eat Combretum fruit and also help with the seed dispersal. Combretum Its range of seasonal features make this a good choice for the ...
07 / 07 / 2003 | Lou-nita LeRoux | Lowveld NBG
Read More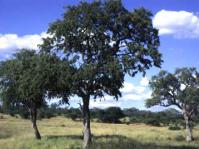 Common names:
leadwood (Eng.); hardekool (Afr.); motswiri (Pedi); ummono (Sotho); mondzo (Tsonga); motswere (Tswana); umbondwe omnyama (Zulu); mohwelere-tshipi (Nor
... semi-deciduous tree, which grows up to 20 m in height. Combretum imberbe is the tallest of all the South African combretums. It has ... in Lowveld areas and grows along streams and rivers. Combretum imberbe is widespread in northern Namibia. It is also found in ...
10 / 04 / 2006 | Patrick Mtsweni | Walter Sisulu NBG
Read More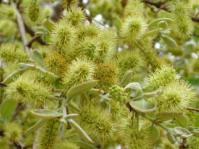 Common names:
river bushwillow (Eng.), riviervaderlandswilg, rooiblaar, rooiblad (Afr.), umbondwe, umdubu-wehlandze, umhlalavane (Zulu), umdubu (Xhosa), miavana, mo
... each fruit, open those that contain grubs and eat them. Combretum This is a popular shade tree, surprisingly drought and frost ... when young and drying to a honey-brown. Combretum erythrophyllum (Burch.) Sond. 536 Combretum erythrophyllum ...
30 / 06 / 2003 | Lou-nita LeRoux | Lowveld NBG
Read More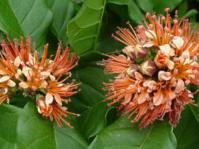 Common names:
hiccough-nut, hiccup nut, hiccough creeper (Eng.); hikklimop (Afr.); uQotha (Xhosa)
... is a true nut in that it has a hard outer shell. Combretum bracteosum is found naturally along the coast in KwaZulu-Natal and ... , which is also in this family. There are 250 species of  Combretum  worldwide in areas with warm climates, although not in Australia ...
14 / 06 / 2004 | Alice Aubrey | Walter Sisulu NBG
Read More
Common names:
red bush willow (Eng.); rooiboswilg (Afr.); umbondwe (Zulu); imbondvo (Swazi); mohwidiri (Tswana); mohwelere (Sepedi); muvuvha (Tshivenda); ndhuva (Ts
... basalt plains, especially in Mopane woodlands. Combretum This is an attractive garden tree, with brownish red or golden ... prefers sandy soil or rocky areas with clay soil. Combretum is a Latin name referring to a climbing plant while the term ...
10 / 01 / 2011 | T Masupa | Pretoria NBG
Read More