Plants of the Week Advanced Search
Search results for "Commiphora" (displaying 2 of 2 on page 1)
Refine your search
Sort by date added
Sort Alphabetically
Common names:
copper-stem corkwood, red-stem corkwood (Eng.); koperstamkanniedood, rooistamkanniedood (Afr.); umhlunguthi, ulonwabo (isiXhosa); iminyela, umbumbunga
... National Botanical Garden August 2017 Commiphora harveyi is a small to medium-sized, single-stemmed, deciduous ... in early summer (October to December). All species of Commiphora are dioecious (male and female flowers on separate trees). ...
14 / 08 / 2017 | Mpendulo Gabayi | Kirstenbosch NBG
Read More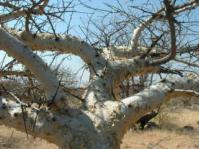 Common names:
corkwood, commiphora; (Eng.); kanniedood (Afr.)
... coloured fleshy appendage (the pseudo-aril). Commiphora species are deciduous and for most of the year the trees are ... as it runs down the stem. The genus name Commiphora originates from the Greek words kommi meaning 'gum' and ...
31 / 01 / 2011 | Beate Hölscher | National Herbarium Pretoria
Read More