Plants of the Week Advanced Search
Search results for "Crinum" (displaying 7 of 7 on page 1)
Refine your search
Sort by date added
Sort Alphabetically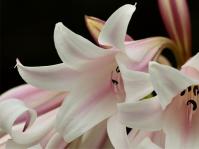 Common names:
Port Elizabeth crinum
... cycle, undergoing complete dormancy in winter. Crinum lineare is found in small colonies or singly and as mentioned on its ... indicate that it is probably pollinated by a moth. Crinum Crinum lineare is easy to grow and flowers profusely in ...
03 / 12 / 2018 | Vathiswa Zikishe | CREW
Read More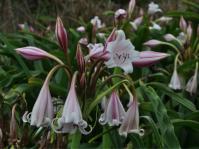 Common names:
river crinum, river lily, common vlei-lily, Sabie crinum, Cape coast lily (Eng.); rivierlelie, boslelie, Sabielelie (Afr.); intelezi (isiXhosa); umduz
... Garden November 2013   Crinum macowanii is a deciduous, summer-growing bulb. The bulbs are large, ... seeds or occasionally up to 20 small seeds. Crinum macowanii is often confused with C. bulbispermum , the Orange ...
11 / 11 / 2013 | Alice Notten | Kirstenbosch NBG
Read More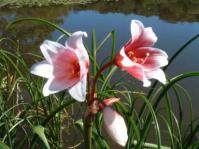 Common names:
water crinum, marsh lily (Eng.); vleilelie (Afr.)
... Conservation status updated August 2016   Crinum campanulatum is a large to small, evergreen or deciduous perennial ... and become dormant till the next rainy season. Crinum campanulatum is endemic to the Albany floristic region of the Eastern ...
30 / 10 / 2006 | Werner Voigt | Kirstenbosch NBG
Read More
Common names:
Natal lily, Moore's crinum, Ngomi lily, Inanda lily (Eng.); boslelie, Natallelie, Ngomilelie, rivierlelie (Afr.); umnduze (Zulu)
...   The large bulb (up to 200 mm in diameter) of  Crinum moorei  rests just under the surface of the soil but has a an elongate ... Plants of Africa came from Port St Johns. Crinum moorei is found in the South African eastern seaboard coastal forest ...
25 / 10 / 2004 | S Khanyile | KwaZulu-Natal NBG
Read More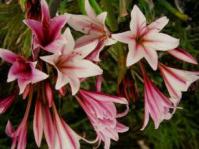 Common names:
river lily, veld lily (Eng.); rivierlelie, veldlelie (Afr.); umNduze (Zulu)
... Herbarium, Pretoria September 2004 The name Crinum originates from the Greek Krinon , which means white lily. As most ... whitish flowers the name seems especially appropriate. Crinum are herbaceous plants with large, tunicated bulbs which produce a neck ...
20 / 09 / 2004 | Robert Archer | National Herbarium Pretoria
Read More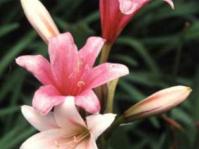 Common names:
bushveld vlei lily
... National Botanical Garden April 2003 Crinum paludosum is a low-growing plant that is found in large colonies in ... is found mainly in tropical Africa; ± 130 species of Crinum are found all over Africa and 21 in South Africa. C. paludosum is ...
19 / 05 / 2003 | Mhlonishwa D Dlamini | Walter Sisulu NBG
Read More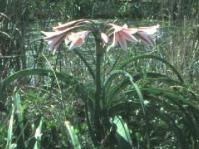 Common names:
Orange River lily, Vaal River lily (Eng.); Oranjerivierlelie (Afr.); umnduze (Zulu).
... winter months by many layers of papery dry bulb scales. Crinum The Orange River lily is easily propagated by seed and is quick ... Amaryllis.  There are about 20 other species of  Crinum  in southern Africa. Crinum bulbispermum is a highly ...
15 / 10 / 2001 | Andrew Hankey | Walter Sisulu NBG
Read More