Plants of the Week Advanced Search
Search results for "Croton" (displaying 4 of 4 on page 1)
Refine your search
Sort by date added
Sort Alphabetically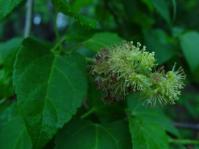 Common names:
feverberry, large feverberry (Eng.); koorsbessie, grootkoorsbessie (Afr.); motsibi (Northern Sotho), muruthu (Tshivenda)
... and contains brown and white-spotted seeds. The   Croton leuconeurus is similar to C. megalobotrys , but differs in the ... areas surrounding the Victoria Falls in Zimbabwe. Croton megalobotrys occurs quite frequently from Tanzania in the north, to ...
17 / 12 / 2018 | Benjamin Festus | Kirstenbosch NBG
Read More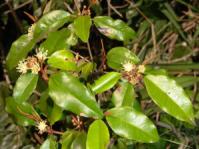 Common names:
small lavender fever-berry (Eng.); kleinlaventelkoorsbessie, sandkoorsbessie (Afr.); uHubeshane (isiZulu)
... KwaZulu-Natal Herbarium September 2012 Croton pseudopulchellus is a perennial shrub, usually growing up to 4 m ... scales. Fruiting time is from December to June. Croton is a genus of about 800 species, mostly pantropical.  The majority of ...
24 / 09 / 2012 | Sifiso Mnxati | KwaZulu-Natal Herbarium
Read More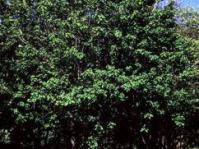 Common names:
forest fever-berry, woodland croton (Eng.); boskoorsbessie (Afr.), umFeze, uMagwaqane (Xhosa); umHloshazane, uGebeleweni, umZilanyoni, inDumbahlozi (Z
... hairs, usually with three roundish lobes. Croton sylvaticus grows in coastal and inland forests, in scrub, often along ... Swaziland and Mpumalanga to Limpopo. Croton sylvaticus fruits are poisonous, but are eaten by birds such as Forest ...
25 / 08 / 2008 | Alec Naidoo | Pretoria NBG
Read More
Common names:
bergboegoe, ilabele, inkubathi, isikhumampuphu, korannaboegoe, lavender croton, lavender fever berry, laventelbos, laventelkoorsbessie, maloga
... drooping terminal branches. The leaves of the lavender croton are simple and alternate, with a beautiful and striking silvery ... mainly associated with stony soils and rocky outcrops. Croton The seed should be collected just before it is dispersed and stored ...
19 / 12 / 2005 | Mhlonishwa D Dlamini | Walter Sisulu NBG
Read More