Plants of the Week Advanced Search
Search results for "Cyanella" (displaying 2 of 2 on page 1)
Refine your search
Sort by date added
Sort Alphabetically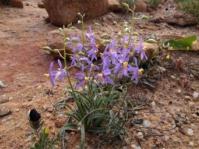 Common names:
lady's hand (Eng.); blouraaptol, dolraap, klipraap, raap, raapdol, raaptol, raaptoluintjie, raapuintjie, tolraap (Afr.)
... The fruit is a loculicidal capsule. Cyanella pentheri and C. hyacinthoides are closely related and easily ... to 1 mm long, along the entire length of the leaf. Cyanella hyacinthoides is widely distributed from just north of Steinkopf in ...
10 / 08 / 2020 | Shireen Harris | Karoo Desert NBG
Read More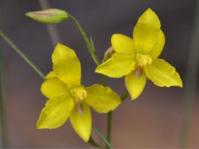 Common names:
five fingers, yellow lady's hand (Eng.); geelraaptol (Afr.)
... a capsule containing many small, black seeds.   Cyanella lutea subsp. lutea is endemic to winter rainfall regions of ... rain per year. The golden-yellow flowers of Cyanella lutea subsp. lutea are sweetly-scented and buzz pollinated. When ...
20 / 07 / 2020 | Shireen Harris | Karoo Desert NBG
Read More