Plants of the Week Advanced Search
Search results for "Cyperus" (displaying 3 of 3 on page 1)
Refine your search
Sort by date added
Sort Alphabetically
Common names:
miniature papyrus
... Clare Archer National Herbarium, Pretoria May 2004 Like Cyperus papyrus , C. prolifer has very inconspicuous leaves, ... 150 mm in diameter. The effect is most attractive. As in Cyperus papyrus , the culms are connected by a rhizome which ... similarly covered in thin-textured, red-brown scales.   Cyperus prolifer occurs along the east coast of Africa, from ...
31 / 05 / 2004 | Clare Archer | Pretoria NBG
Read More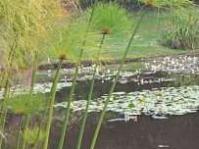 Common names:
papyrus (Eng.); papirus (Afr.); the bulrush of the Bible
... the tops of the culms below the clusters of thin stalks. Cyperus papyrus grows in full sun, in wet swamps and on lake ... be replaced by new ones in spring. In its natural habitat Cyperus papyrus occurs in large, dense populations, often ... fruits after release are distributed by wind and water. Cyperus Ideally, the plants need a muddy or sandy substrate ...
24 / 05 / 2004 | Clare Archer | Pretoria NBG
Read More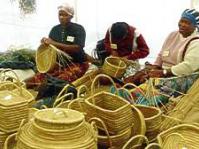 Common names:
mat sedge, umbrella sedge, basket grass, rushes, emezi grass (Eng.); matjiesgoed, kooigoed, (Afr.); imisi (Xhosa)
... of the plant, reduced to sheaths which clasp the stem. Cyperus textilis is found in the southern part of South ... are derived from the presence of these or related plants. Cyperus textilis plants resprout after frost or periodic ... Many birds, like finches and weavers, build their nests in Cyperus textilis clumps, and the plants provide shelter for ...
26 / 05 / 2003 | Christien Malan | Kirstenbosch NBG
Read More