Plants of the Week Advanced Search
Search results for "Cyrtanthus" (displaying 9 of 9 on page 1)
Refine your search
Sort by date added
Sort Alphabetically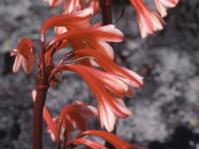 Common names:
fire lily; brandlelie (Afrikaans)
... Colin Paterson-Jones (copyright)     Cyrtanthus ventricosus is a deciduous, bulbous plant reaching a height of ... about seven weeks to mature. Like all other Cyrtanthus species, the seeds are dry, black, flattened and winged. ...
07 / 10 / 2013 | D Snijman | Compton Herbarium
Read More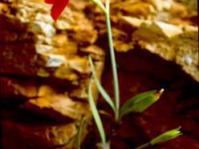 Common names:
Kouga flame lily (Eng.); Kouga-vlamlelie (Afr.)
... of the Peninsula Formation (Cape Supergroup). Cyrtanthus flammosus is an obligate (not able to grow anywhere else) cliff ... C. flammosus ) is one of nine obligate cliff-dwelling Cyrtanthus species. The others include C. falcatus , C. flanaganii , ...
22 / 07 / 2013 | Ernst van Jaarsveld | Kirstenbosch NBG
Read More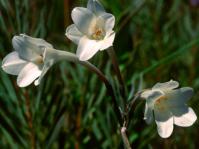 Common names:
white fire lily (Eng.); witbergpypie (Afr.)
... slightly curved, stigma 3-branched. In nature Cyrtanthus leucanthus is usually associated with Haemanthus ... cluster of small, somewhat tubular flowers. Cyrtanthus leucanthus is known from near Betty's Bay eastward to the ... it grows on sandstone or shale ridges. Cyrtanthus leucanthus occurs on coastal lowlands. Most species in the genus ...
12 / 03 / 2012 | Vathiswa Zikishe | CREW
Read More
Common names:
Knysna lily (Eng.); Knysnalelie (Afr.); Umathaga (IsiZulu)
... Garden October 2009   The bulb of  Cyrtanthus obliquus  is large and fleshy, like an onion. Leaves vary from ... in April and May. The seeds are papery and black. Cyrtanthus obliquus grows on dry, rocky, sloping ground on sandstone-derived ...
26 / 10 / 2009 | Lufuno Konanani | KwaZulu-Natal NBG
Read More
Common names:
Richtersveld cyrtanthus
... Ian Oliver Karoo Desert NBG July 2007 Cyrtanthus herrei is a large evergreen bulb with a long neck that protrudes ... during the months of March and April. Cyrtanthus herrei is restricted to the arid winter rainfall areas and occurs ...
23 / 07 / 2007 | Ian Oliver | Karoo Desert NBG
Read More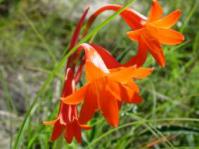 ... Botanical Garden October 2006   Cyrtanthus macmasteri is a perennial, bulbous herb that is between 200-250 ... Little is known about the pollinators and adaptations of Cyrtanthus macmasteri to the environment since this is a recently described ...
09 / 10 / 2006 | Suvarna Parbhoo | Pretoria NBG
Read More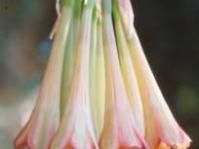 ... National Botanical Garden September 2004 Cyrtanthus falcatus is a deciduous, summer-growing bulbous plant producing a ... releasing numerous black, flattened papery seeds. Cyrtanthus falcatus is only known to occur in Grassland of the Drakensberg ...
13 / 09 / 2004 | Graham Duncan | Kirstenbosch NBG
Read More
... twisted leaves of  C. herrei. The genus Cyrtanthus can conveniently be placed into two distinct groups according to ... in the far northwestern corner of Northern Cape. Most Cyrtanthus species bloom from late summer to mid-autumn, but there are some ...
22 / 07 / 2002 | Graham Duncan | Kirstenbosch NBG
Read More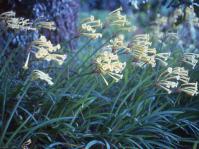 ... Botanical Garden July 2002 The flowers of Cyrtanthus mackenii are long and narrow with recurved tips, and the leaves ... sweetly scented and pollinated by night-flying moths. Cyrtanthus Although all Cyrtanthus species can be cultivated in ...
22 / 07 / 2002 | Graham Duncan | Kirstenbosch NBG
Read More