Plants of the Week Advanced Search
Search results for "Dalbergia" (displaying 3 of 3 on page 1)
Refine your search
Sort by date added
Sort Alphabetically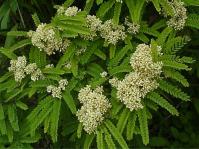 Common names:
thorny-rope, flat-bean, Hluhluwe climber (Eng.); doringtou (Afr.); umhluhluwe, uthathawe (isiZulu); omqokolo, ubobo, umzungulu (isiXhosa); sehlokootsw
... Kirstenbosch National Botanical Garden June 2018   Dalbergia armata is a deciduous, woody, robust climber. It ... branch tips, in late summer (from January to May ). Dalbergia armata is indigenous to southern Africa and occurs ... and some that just rub themselves against the plant. Dalbergia Dalbergia armata can be propagated from seed and ...
04 / 06 / 2018 | Sisanda Alakhe Velembo-Mhlauli | Kirstenbosch NBG
Read More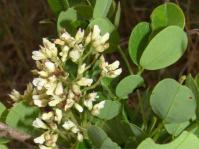 Common names:
zebra wood, African blackwood, African ebony (Eng.), sebrahout, swartdriedoring, driedoringebbehout (Afr.), isparati, mpingo (Swati), mogôrôgôrô (
... Ngwenya Lowveld National Botanical Garden December 2019 Dalbergia melanoxylon is a small, spiny, deciduous tree, ... swelling where there is a seed. Seeds are kidney-shaped. Dalbergia melanoxylon is distributed in South Africa (where ... and Isoberlinia, but is most common near water. Dalbergia melanoxylon is pollinated by bees. Flowers are a ...
23 / 12 / 2019 | Winfred Velephi Ngwenya | Lowveld NBG
Read More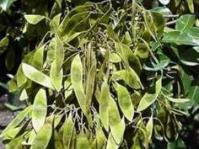 Common names:
climbing flat bean (Eng.); bobbejaankoudoring, rankplatboontjie (Afr.); udukuduku, isibandhlube, uphandlazi (Zulu); umzungu, umzungulu (Xhosa)
... NBG Cherise Viljoen Kirstenbosch December 2006 Dalbergia obovata is a canopy climber, up to 30 m in the ... the biologically useful nitrogen that the plant absorbs. Dalbergia For cultivation this plant would be suited to most ... of most garden conditions. It can be briefly deciduous. Dalbergia obovata is not a striking plant, but it is showy ...
18 / 12 / 2006 | Cherise Viljoen | Kirstenbosch NBG
Read More