Plants of the Week Advanced Search
Search results for "Dianthus" (displaying 2 of 2 on page 1)
Refine your search
Sort by date added
Sort Alphabetically
... from white through to pink and salmon tones. Dianthus albens is the only species which is sometimes cultivated and flowers ... and December. The seeds are black and flaky.   Dianthus albens is fairly common in coastal areas all along the Western Cape ...
15 / 12 / 2008 | Gary Shanks | Kirstenbosch NBG
Read More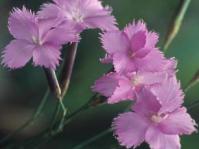 Common names:
wild pink dianthus, African carnation (Eng.); grasangelier, wild-angelier (Afr.); iningizimu, isidala, umzima (isiZulu)
... KZN Herbarium October 2008     Dianthus zeyheri is a perennial, slender herb with a carrot-like root and a ... petals are 8-17 mm long and have fine incisions. Dianthus is a large genus, with ± 300 species found in Europe, Asia, Africa ...
20 / 10 / 2008 | Sifiso Mnxati | KwaZulu-Natal Herbarium
Read More