Plants of the Week Advanced Search
Search results for "Dierama" (displaying 3 of 3 on page 1)
Refine your search
Sort by date added
Sort Alphabetically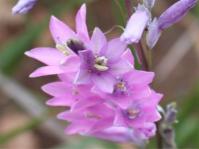 Common names:
Tyson's hairbells (Eng.); grasklokkies (Afr.)
... KwaZulu-Natal National Botanical Garden October 2019 Dierama tysonii is an evergreen, herbaceous perennial that ... occurs from midwinter to spring (July–September). Dierama tysonii has been recorded growing in Pondoland and ... and in open grasslands at 1 370 to 1 650 m altitude. Dierama tysonii seeds are dispersed by wind, but are not ...
28 / 10 / 2019 | Bathabile Ndlovu | KwaZulu-Natal NBG
Read More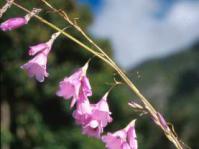 Common names:
fairy bell, hair-bell, wedding bell (Eng.)
... Duncan Kirstenbosch National Botanical Garden October 2005 Dierama pendulum is an evergreen geophyte (a plant that grows ... bearing numerous brown, hard, angular seeds. The genus Dierama is endemic to Africa and contains some 45 species ... is found in KwaZulu-Natal, where about 26 species occur. Dierama pendulum is one of the most well-known and desirable ...
31 / 10 / 2005 | Graham Duncan | Kirstenbosch NBG
Read More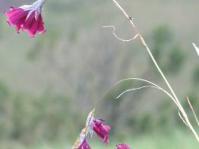 Common names:
This species does not appear to have a common name of its own, but the genus Dierama is known as hairbells, fairybells, wandflowers; grasklokkies (Afr
... to angled and brown. Flowers with their silvery bracts Dierama reynoldsii grows in medium- to high-altitude ... there is no information on this, specific to this plant. Dierama Although the list of suppliers appended to Hilliard & ... bedding plant on the University campus that year was Dierama —  not D. reynoldsii but a much paler-flowered ...
27 / 06 / 2005 | Hugh Glen | KwaZulu-Natal NBG
Read More