Plants of the Week Advanced Search
Search results for "Dombeya" (displaying 7 of 7 on page 1)
Refine your search
Sort by date added
Sort Alphabetically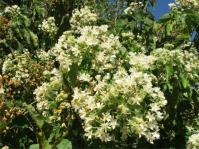 Common names:
river wild pear, river dombeya (Eng.); rivierdrolpeer (Afr.)
... Velembo Kirstenbosch National Botanical Garden March 2020 Dombeya kirkii is a large, multi-stemmed, much-branched, ... small brown capsule surrounded by the dried petals. Dombeya kirkii is found in low altitude bushveld, in riverine ... The plant is a useful bee forage (food supply) plant. Dombeya Dombeya kirkii responds very well to pollarding, ...
02 / 03 / 2020 | Sisanda Alakhe Velembo-Mhlauli | Kirstenbosch NBG
Read More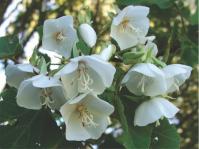 Common names:
forest wild pear, forest dombeya, little-dog-rose (Eng.); bosblompeer, bosdrolpeer (Afr.), ibunda (isiZulu), utyibo (isiXhosa)
... & Geoff Nichols, Freelance Horticulturist August 2018 Dombeya tiliacea is a lovely shrub, sometimes scrambling, or ... seeds, in winter to early summer (June to December). Dombeya tiliacea grows on the edges of forest, in coastal ... is often parasitised by a mistletoe, Erianthemum dregei. Dombeya Dombeya tiliacea is easy to grow from cuttings and ...
06 / 08 / 2018 | Alice Notten | Kirstenbosch NBG
Read More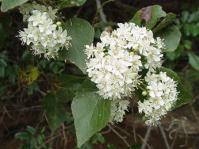 Common names:
small-flowered dombeya, smooth wild pear, Natal dombeya, Natal wild pear, hairless dombeya (Eng.); gladdeblompeer, Nataldrolpeer, gladdedrolpeer (Afr.
... Gracious Mona Pretoria National Herbarium April 2015 Dombeya cymosa is a shrub or small tree, with a round crown, ... with raised lines. The growth rate is slow to moderate. Dombeya cymosa grows from the Eastern Cape through ... by bees from this plant, is reported to be excellent. Dombeya Dombeya cymosa is propagated from seed best sown in ...
27 / 04 / 2015 | Nonkululo Phephu | National Herbarium Pretoria
Read More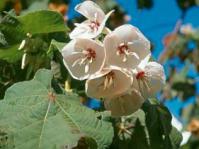 Common names:
silver white pear (Eng.); blombos (Afr.)
... in wooded kloofs or in wooded areas along stream banks. Dombeya It is easily raised from seed, which can be sown in ... or semi-shaded areas of your garden. The generic name Dombeya , is in honour of Joseph Dombey, a French botanist ... Latin word for beautiful. This species is very similar to Dombeya burgessiae that has white or pink flowers with a ...
15 / 08 / 2005 | K Behr | Pretoria NBG
Read More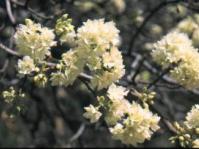 Common names:
wild pear (English); drolpeer (Afrikaans); iNhliziyonkhulu (Zulu); mohlabaphala (N. Sotho); motubane (Tswana); nsihaphukuma (Tsonga)
... taking place in the warmer northern areas.  Like other Dombeya species the flowers remain on the tree until after ... the minute star-like hairs which are a characteristic of Dombeya . Dombeya rotundifolia  grows in woodland, wooded grassland ...
17 / 09 / 2001 | Alice Aubrey | Walter Sisulu NBG
Read More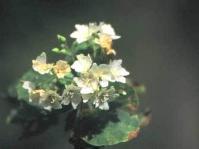 Common names:
autumn dombeya, autumn wild pear (English); rotsdrolpeer (Afrikaans)
... National Botanical Garden May 2001 Some weeks ago another dombeya was featured, the pink wild pear,  D. burgessiae , ... large, velvety leaves and heads of pink to white flowers. Dombeya autumnalis has small leaves and delicate, creamy ... which appear in a burst of blossom which is a feature of Dombeya . These have a sweet scent and, like other wild ...
28 / 05 / 2001 | Alice Aubrey | Walter Sisulu NBG
Read More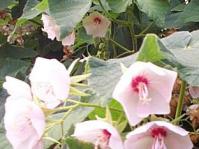 Common names:
pink wild pear, pink dombeya, persdrolpeer (Afrikaans), ibunda (Zulu)
... arrangements. The fruits are small, round, furry capsules. Dombeya burgessiae  is a widespread and variable species ... margins, hillsides and slopes and along stream banks. Dombeya  The pink wild pear also grows very well in light ... out into the ground once they are knee high or higher. Dombeya  = Named after a French botanist Joseph Dombey who ...
07 / 05 / 2001 | Andrew Hankey | Walter Sisulu NBG
Read More