Plants of the Week Advanced Search
Search results for "Dombeya" (displaying 7 of 7 on page 1)
Refine your search
Sort by date added
Sort Alphabetically
Common names:
river wild pear, river dombeya (Eng.); rivierdrolpeer (Afr.)
... National Botanical Garden March 2020 Dombeya kirkii is a large, multi-stemmed, much-branched, deciduous shrub or ... brown capsule surrounded by the dried petals. Dombeya kirkii is found in low altitude bushveld, in riverine thicket. It ...
02 / 03 / 2020 | Sisanda Alakhe Velembo-Mhlauli | Kirstenbosch NBG
Read More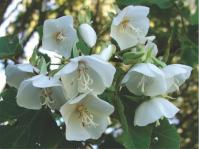 Common names:
forest wild pear, forest dombeya, little-dog-rose (Eng.); bosblompeer, bosdrolpeer (Afr.), ibunda (isiZulu), utyibo (isiXhosa)
... Nichols, Freelance Horticulturist August 2018 Dombeya tiliacea is a lovely shrub, sometimes scrambling, or a small ... winter to early summer (June to December). Dombeya tiliacea grows on the edges of forest, in coastal forest, thornveld ...
06 / 08 / 2018 | Alice Notten | Kirstenbosch NBG
Read More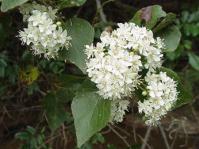 Common names:
small-flowered dombeya, smooth wild pear, Natal dombeya, Natal wild pear, hairless dombeya (Eng.); gladdeblompeer, Nataldrolpeer, gladdedrolpeer (Afr.
... Mona Pretoria National Herbarium April 2015 Dombeya cymosa is a shrub or small tree, with a round crown, 3.5–10.0 m ... raised lines. The growth rate is slow to moderate. Dombeya cymosa grows from the Eastern Cape through KwaZulu-Natal and up to ...
27 / 04 / 2015 | Nonkululo Phephu | National Herbarium Pretoria
Read More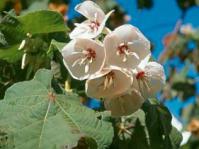 Common names:
silver white pear (Eng.); blombos (Afr.)
... kloofs or in wooded areas along stream banks. Dombeya It is easily raised from seed, which can be sown in early ... semi-shaded areas of your garden. The generic name Dombeya , is in honour of Joseph Dombey, a French botanist and traveller in ...
15 / 08 / 2005 | K Behr | Pretoria NBG
Read More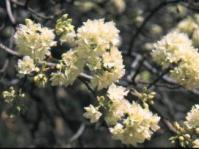 Common names:
wild pear (English); drolpeer (Afrikaans); iNhliziyonkhulu (Zulu); mohlabaphala (N. Sotho); motubane (Tswana); nsihaphukuma (Tsonga)
... place in the warmer northern areas.  Like other Dombeya species the flowers remain on the tree until after the fruit capsules ... the minute star-like hairs which are a characteristic of Dombeya . Dombeya rotundifolia  grows in woodland, wooded ...
17 / 09 / 2001 | Alice Aubrey | Walter Sisulu NBG
Read More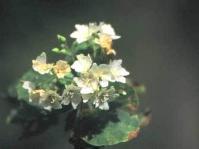 Common names:
autumn dombeya, autumn wild pear (English); rotsdrolpeer (Afrikaans)
... Botanical Garden May 2001 Some weeks ago another dombeya was featured, the pink wild pear,  D. burgessiae , which had large, velvety leaves and heads of pink to white flowers. Dombeya autumnalis has small leaves and delicate, creamy white heads of ...
28 / 05 / 2001 | Alice Aubrey | Walter Sisulu NBG
Read More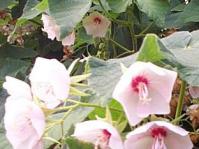 Common names:
pink wild pear, pink dombeya, persdrolpeer (Afrikaans), ibunda (Zulu)
... The fruits are small, round, furry capsules. Dombeya burgessiae  is a widespread and variable species growing from ... margins, hillsides and slopes and along stream banks. Dombeya  The pink wild pear also grows very well in light shade, which ...
07 / 05 / 2001 | Andrew Hankey | Walter Sisulu NBG
Read More