Plants of the Week Advanced Search
Search results for "Dovyalis" (displaying 3 of 3 on page 1)
Refine your search
Sort by date added
Sort Alphabetically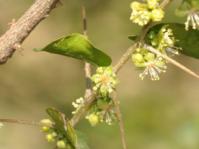 Common names:
common sourberry (Eng.); gewone suurbessie (Afr.); ukhamgwindi (Zulu); umqaqoba (Xhosa)
... Botanical Garden October 2012   Dovyalis rhamnoides is an evergreen shrub or a small tree 1-7 m high. It has ... and on forest margins or in riverine environment. Dovyalis The plant easily propagates from seeds during October to February ...
08 / 10 / 2012 | C Mudau | Walter Sisulu NBG
Read More
Common names:
Kei-apple (Eng.); Kei-appel (Afr.); motlhono (North Sotho); umqokolo (Zulu); amaqokolo (Ndebele); mukokolo (Shona)
... National Botanical Gardens April 2003 Dovyalis caffra  is usually 3-5 m in height, but sometimes reaches 8 m with a ... louries and the black-eyed bulbuls love the fruits of a Dovyalis caffra , which are delicious. By eating the fruits, birds also help ...
12 / 05 / 2003 | Avhurengwi Phillemon Ndou | Walter Sisulu NBG
Read More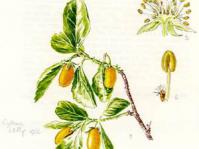 Common names:
wild apricot (E), wilde-appelkoos (A), umNyazuma (Z), umQokokolo (X), morethema (NS)
... Sisulu National Botanical Garden April 2002 Dovyalis zeyheri  is a small to medium sized evergreen tree growing from 2 - ... from entering. Spines are also a feature of  Dovyalis caffra ,  the Kei apple, which is another member of this genus ...
22 / 04 / 2002 | Alice Aubrey | Walter Sisulu NBG
Read More