Plants of the Week Advanced Search
Search results for "Dracaena" (displaying 2 of 2 on page 1)
Refine your search
Sort by date added
Sort Alphabetically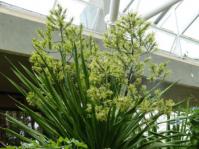 Common names:
Wolkberg dragon tree (Engl.); Wolkbergdrakeboom, dolomiet-drakeboom (Afr.)
... (December–January in the southern hemisphere). Dracaena transvaalensis is only recorded from the dolomite ... mm per annum, and it is mainly experienced in summer. Dracaena transvaalensis is pollinated by moths at night, when ... Seeds ripen in autumn coinciding with the rainy season. Dracaena Dracaena transvaalensis is an ornamental, ...
16 / 02 / 2015 | Ernst van Jaarsveld | Kirstenbosch NBG
Read More
Common names:
large-leaved dragon tree; grootblaardrakeboom (Afr.)
... to February). Beautiful orange berries follow these. Dracaena aletriformis occurs from Port Elizabeth eastwards to ... tree are very popular with many of the fruit-eating birds. Dracaena This relatively fast-growing, beautiful plant ... when damaged leaves or 'snail trails' are noted. The name Dracaena is derived from the Greek word drakaina = a female ...
10 / 02 / 2003 | Cherise Viljoen | Kirstenbosch NBG
Read More