Plants of the Week Advanced Search
Search results for "Drimia" (displaying 2 of 2 on page 1)
Refine your search
Sort by date added
Sort Alphabetically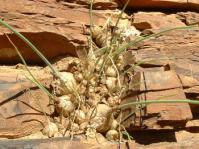 Common names:
Kei drimia (Eng.); dassiekweek (Afr.)
... University of the W. Cape. August 2016 Drimia loedolffiae is an evergreen bulb, which divides, forming dense, ... with flowers opening late in the afternoon. Drimia loedolffiae is confined to the Kei River and its tributaries in the ...
17 / 04 / 2017 | Ernst van Jaarsveld | Kirstenbosch NBG
Read More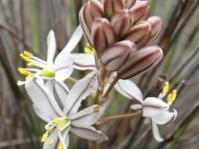 Common names:
gifbol (Afr.)
... Garden November 2014   Drimia filifolia is a bulbous geophyte somewhat similar to D. exuviata , ... conspicuous collar found in D. exuviata . Furthermore, Drimia filifolia also produces fewer leaves. They are approximately 1 mm in ...
10 / 11 / 2014 | James Deacon | Kirstenbosch NBG
Read More