Plants of the Week Advanced Search
Search results for "Drimia" (displaying 4 of 4 on page 1)
Refine your search
Sort by date added
Sort Alphabetically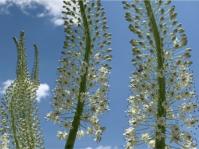 Common names:
tall white squill (Eng.); jeukbol, maermanbol, maermanui (Afr.); lukhovu (Siswati), isiklenama, umahlokolosi, umgulube (isiZulu)
... use of their images. This bulbous plant is one of the tall Drimia species. Depending on the locality, it can be found in ... and it is variable. It grows between 350 mm and 2 m tall. Drimia altissima produces a big bulb, growing between 100-150 ... to as Ornithogalum altissimum and Urginea altissima. Drimia altissima does not only occur in South Africa. It is ...
25 / 07 / 2022 | Dineo Dibakwane | Walter Sisulu NBG
Read More
Common names:
round-head drimia (Eng.); snotuintjie (Afr.); hlare-sa-noko (Sesotho).
... a fruit that is a capsule which produces elliptical seeds. Drimia sphaerocephala is found in moist areas or marshy ... and as far as the Limpopo Province. The flowers of Drimia sphaerocephala are short-lived, having a lifespan of 3 ... on the specific pollinators, however, like most other Drimia species, these plants could be pollinated by insects ...
04 / 07 / 2022 | Lesiba Papo | National Herbarium Pretoria
Read More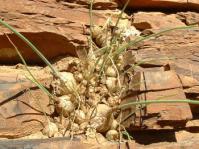 Common names:
Kei drimia (Eng.); dassiekweek (Afr.)
... and Conservation, University of the W. Cape. August 2016 Drimia loedolffiae is an evergreen bulb, which divides, ... to February, with flowers opening late in the afternoon. Drimia loedolffiae is confined to the Kei River and its ... but it also grows on Dolerite cliffs (intrusions). Drimia loedolffiae grows mainly in succulent-rich, ...
17 / 04 / 2017 | Ernst van Jaarsveld | Kirstenbosch NBG
Read More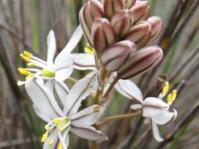 Common names:
thread-leaf drimia (Eng.); gifbol (Afr.)
... Kirstenbosch National Botanical Garden November 2014   Drimia filifolia is a bulbous geophyte somewhat similar to D. ... the conspicuous collar found in D. exuviata . Furthermore, Drimia filifolia also produces fewer leaves. They are ... flattened, round seeds, becoming black when mature. Drimia filifolia is widely distributed along the western side ...
10 / 11 / 2014 | James Deacon | Kirstenbosch NBG
Read More