Plants of the Week Advanced Search
Search results for "Elaeodendron" (displaying 2 of 2 on page 1)
Refine your search
Sort by date added
Sort Alphabetically
Common names:
bushveld saffron (Eng.); bosveldsaffraan, lepelhout (Afr.); iNgwavuma, uMgugudo (Zulu); shimapana (Tsonga); monamane (Northern Sotho)
... woodland, along streams and often on termite mounds. Elaeodendron Elaeodendron transvaalense  does not grow easily from cuttings, but it grows ...
28 / 05 / 2007 | Mhlonishwa D Dlamini | Walter Sisulu NBG
Read More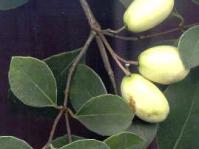 Common names:
saffron; saffron wood, forest saffron (Eng.); saffraan, bossafraan (Afr.)
... pointed stone or putamen, like that of an olive. Elaeodendron croceum presently occurs from near Ladismith in the west to ... handsomest trees on the island'. In its ideal habitat Elaeodendron croceum occurs on the margins of coastal and other moist inland ...
07 / 06 / 2004 | Robert Archer | National Herbarium Pretoria
Read More