Plants of the Week Advanced Search
Search results for "Eriosema" (displaying 2 of 2 on page 1)
Refine your search
Sort by date added
Sort Alphabetically
Common names:
pale yellow eriosema (Eng.)
... State National Botanical Garden April 2015 Eriosema kraussianum is an erect, fairly small, perennial herb, forming ... time is from September to November.   Eriosema kraussianum is usually found amongst rocky areas of grassland, ...
13 / 04 / 2015 | Stemmer Ngalo | Free State NBG
Read More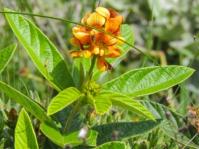 Common names:
Umtamvuna eriosema
... supplying the images to illustrate this article. Eriosema umtamvunense is an erect perennial shrub, up to 500 mm high, with a ... and by the wing petals exceeding the keel petals. Eriosema umtamvunense is endemic to South Africa. It was thought to be ...
07 / 01 / 2019 | Lungisani Zondi | Walter Sisulu NBG
Read More