Plants of the Week Advanced Search
Search results for "Euchaetis" (displaying 2 of 2 on page 1)
Refine your search
Sort by date added
Sort Alphabetically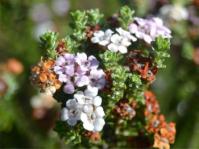 Common names:
Albertinia bearded buchu, Albertinia mothflower
... Oliver Kirstenbosch National Botanical Garden May 2020 Euchaetis albertiniana is a dense, aromatic shrub of 0.5 × 1 ... on the fruits. As with all other species of buchu, Euchaetis also has a characteristic fruit which consists of ... wall enable the powerful release of a large single seed.  Euchaetis albertiniana is found on deep red sands over ...
11 / 05 / 2020 | Roger Oliver | Kirstenbosch NBG
Read More
Common names:
Agulhas bearded-buchu
... by being shot out of the seed capsules at high speed. Euchaetis Euchaetis meridionalis thrives in full sun and well-drained, ... Kirstenbosch National Botanical Garden. The generic name Euchaetis , translated from Greek, literally means ...
08 / 08 / 2016 | Roger Oliver | Kirstenbosch NBG
Read More