Plants of the Week Advanced Search
Search results for "Euclea" (displaying 5 of 5 on page 1)
Refine your search
Sort by date added
Sort Alphabetically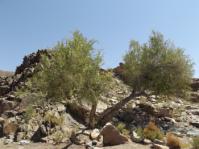 Common names:
ebony guarri, ebony tree, black ebony, Cape ebony (Eng.); ebbehoutghwarrie, ebbehout, ebbeboom, swartebbenhout (Afr.); tsawib (Nama)
... National Botanical Garden February 2016 Euclea pseudebenus is commonly known as a true tree, but may also be found as ... than their height. As with many arid environment trees, Euclea pseudebenus is a very slow grower, but at the same time may become ...
15 / 02 / 2016 | Werner Voigt | Karoo Desert NBG
Read More
Common names:
magic guarri (English); towerghwarrie (Afrikaans); mohlakola (Northern Sotho); umhlangula, ubophanyamazane, umncafuzana (Zulu); umdlelanyamatane (Swat
... Herbarium, Pretoria January 2014   Euclea divinorum is an evergreen shrub or small tree, up to 9 m high, with ... of leaves. Stalks are covered in reddish-brown granules. Euclea divinorum flowers from August to December. It can be confused with ...
27 / 01 / 2014 | M.S. Mothogoane | National Herbarium Pretoria
Read More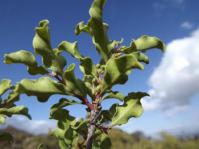 Common names:
small-leaved guarri, common guarri (Eng.); kleinblaarghwarrie, gewone ghwarrrie (Afr.); bergebenholzstrauch (Ger.); gwanxe, inkunzane, umshekizane, um
... Botanical Garden June 2013   Euclea undulata is a very sturdy, evergreen, dense and twiggy shrub to small ... of fruit or flowers or both for most of the year. Euclea undulata occurs in a variety of climates ranging from tropical, ...
24 / 06 / 2013 | Werner Voigt | Karoo Desert NBG
Read More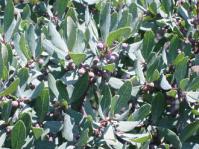 Common names:
blue guarri (Eng.); bloughwarrie (Afr.); iyeza-lokuxaxazisa, umgwali (isiXhosa), motlhaletsogane (Setswana); idungamuzi, umgwali (isiZulu), gwari (Ped
... Botanical Garden August 2010   Euclea crispa is a single-stemmed small tree with many smaller branches ... have been seen to enjoy browsing the leaves and bark of Euclea crispa. Euclea In nature, the blue guarri grows quite easily ...
09 / 08 / 2010 | N Stoll | Millennium Seed Bank Partnership
Read More
Common names:
Natal guarri, Natal ebony, large-leaved guarri (Eng.); Natalghwarrie, berggwarrie, swartbasboom (Afr.); umTshekisani, umKhasa (Xhosa); iDungamuzi, iCh
... Anthony Hitchcock for advice on propagation. Euclea natalensis is a shrub or small bushy tree, 4-10 m tall, with a dense, ... foliage emerging out of the dark green crown. Euclea natalensis is dioecious (with male and female flowers borne on ...
08 / 02 / 2010 | Alice Notten | Kirstenbosch NBG
Read More