Plants of the Week Advanced Search
Search results for "Faurea" (displaying 3 of 3 on page 1)
Refine your search
Sort by date added
Sort Alphabetically
Common names:
forest beechwood, escarpment beechwood, bush-beech, forest-beech (Eng.); bosboekenhout, platorandboekenhout, rooiboekenhout (Afr.); sisefo (siSwati);
... shrub or small tree, growing up to 10 m tall. The stem of Faurea galpinii will differ, depending on the growing conditions. The bark ... 10 mm long. The most striking feature distinguishing Faurea galpinii from the rest of the species in its genus, is that it has an ...
02 / 11 / 2015 | Andrew Hankey | Walter Sisulu NBG
Read More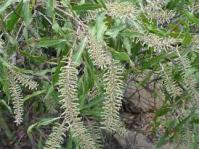 Common names:
willow beechwood, African beech (Eng.); Bosveldboekenhout (Afr.); iSefu, umCalathole (Zulu); isiDwadwa, umOnyeli (Ndebele); mohlako, mongena (Northern
... Mbambezeli Kirstenbosch NBG June 2008 Faurea saligna is a small, willowy tree, 7-10 m tall but reaching up to 20 m ... nut with hairs. It is a moderately slow grower. Faurea saligna occurs in the northeastern part of southern Africa from ...
09 / 06 / 2008 | Giles Mbambezeli | Kirstenbosch NBG
Read More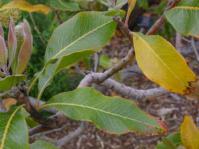 Common names:
broad-leaved boekenhout (Eng.); breëblaarboekenhout (Afr.) ; Mogwapi (North Sotho); siSefo (siSwati); N'wamidzumba (Tsonga); Mutango (tshiVenda)
... are the first character one will see that distinguishes Faurea rochetiana from its relatives. It is a small tree, 4-7 m high The bark ... in autumn before falling. Like all species of Faurea, this one bears its flowers in conspicuous hanging spikes, up to 250 ...
07 / 01 / 2008 | Hugh Glen | KwaZulu-Natal Herbarium
Read More