Plants of the Week Advanced Search
Search results for "Frithia" (displaying 2 of 2 on page 1)
Refine your search
Sort by date added
Sort Alphabetically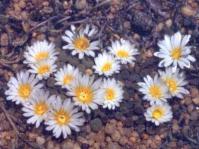 Common names:
window plants, fairy elephant's feet (Eng.);bobbejaanvingers, glasies, toontjies (Afr.) Status: Endangered
... repeatedly as they become wet (open) and dry (closed). Frithia humilis is one of a few mesembs growing exclusively ... melanadenia . Species sometimes found associated with Frithia are the succulents Anacampseros subnuda subsp. ... on flowers already pollinated. Economic and cultural value Frithia humilis makes an attractive potplant and is popular ...
23 / 02 / 2004 | P Burgoyne | Pretoria NBG
Read More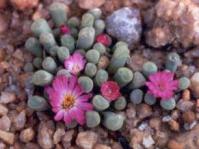 Common names:
bobbejaanvingers, glasies, toontjies, window plants and, perhaps most appropriately fairy elephant's feet.
... dry (hygrochastic capsules), releasing the seed.     Frithia pulchra grows exclusively in the summer-rainfall ... here and upon weathering, form a very coarse gravel. Frithia pulchra grows mostly on exposed rock plates, the ... winters. Other succulent species sometimes associated with Frithia are Anacampseros subnuda subsp. subnuda, Crassula ...
12 / 01 / 2004 | P Burgoyne | National Herbarium Pretoria
Read More