Plants of the Week Advanced Search
Search results for "Gardenia" (displaying 3 of 3 on page 1)
Refine your search
Sort by date added
Sort Alphabetically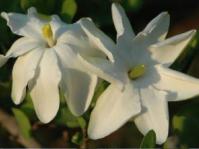 Common names:
bushveld gardenia, Transvaal gardenia (Eng.); Transvaalkatjiepiering, bosveldkatjiepiering, kannetjieboom, stompdoring (Afr.); morala (Northern-Sotho,
... possible, especially in the case of herbarium specimens. Gardenia volkensii subsp. volkensii differs from subsp. spatulifolia ... volkensii has calyx lobes up to 10-15 mm long. Gardenia volkensii prefers open woodland, bushveld and thicket and occurs ...
23 / 08 / 2010 | Hester Steyn | National Herbarium Pretoria
Read More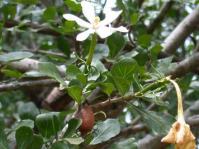 Common names:
Tonga gardenia, Natal gardenia, horned gardenia (Eng.); wilde-appel, Tongakatjiepiering, Natalkatjiepiering (Afr.); umhlahle, unomphumela, umvalasangw
... KwaZulu-Natal Herbarium June 2005 Gardenia cornuta is a shrub or multi-branched small tree, 3 to 5 m tall, with ... February and August. Seeds are hard and flattened. Gardenia cornuta is found in the bushveld, woodland, grassy plains and ...
13 / 06 / 2005 | Mkhipheni Ngwenya | KwaZulu-Natal NBG
Read More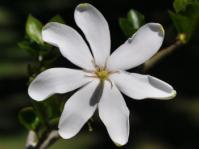 Common names:
white gardenia, forest gardenia, wild gardenia (Eng.), witkatjiepiering, buffelsbal, kannetjieboom (Afr.), umKhangazi (Xhosa), umValasangweni, umKhwak
... roughly dotted with whitish encrustations. Gardenia thunbergia occurs in a strip up the eastern coast of South Africa ... and dispersed unless these animals eat them. Harvesting Gardenia thunbergia seed is hard work. The secateurs we use to cut off the ...
17 / 02 / 2003 | Alice Notten | Kirstenbosch NBG
Read More