Plants of the Week Advanced Search
Search results for "Gazania" (displaying 4 of 4 on page 1)
Refine your search
Sort by date added
Sort Alphabetically
Common names:
Karoo gazania
... The bright yellow or orange flower heads of Gazania rigida are visited by many insects which aid with pollination. Gazania Sow the seed during autumn in a well-draining medium. Level the ...
16 / 09 / 2013 | Roger Oliver | Kirstenbosch NBG
Read More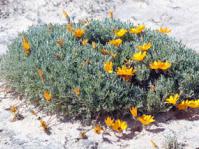 ... Herbarium, Kirstenbosch February 2012 Gazania splendidissima is a perennial subshrub up to 200 mm tall with woody ... Flowering time is from August to October. Gazania spendidissima is endemic to a narrow strip of the west coast between ...
13 / 02 / 2012 | Anthony R. Magee | Compton Herbarium
Read More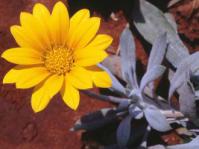 Common names:
trailing gazania (Eng.); strandgazania, strandgousblom, rankbotterblom (Afr.); ububendle (Zulu)
... Flowering time recorded from August to February. Gazania rigens var. leucolaena has a small distribution area along the ... in Australia (Paul 2006; Karis et al. 2009). Other Gazania species in cultivation are G. krebsiana , G. ...
18 / 10 / 2010 | Paul Herman | National Herbarium Pretoria
Read More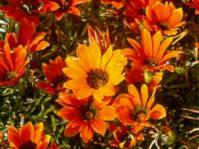 Common names:
terracotta gazania (Eng.); gousblom, botterblom, rooi gazania (Afr.)
... Kirstenbosch NBG August 2006 Gazania krebsiana is an extremely showy plant when in flower, largely due to ... on the short shoots. A distinctive characteristic of Gazania is that the flowering stalks contain a milky sap. Flowerheads ...
18 / 09 / 2006 | Werner Voigt | Kirstenbosch NBG
Read More