Plants of the Week Advanced Search
Search results for "Geranium" (displaying 3 of 3 on page 1)
Refine your search
Sort by date added
Sort Alphabetically
Common names:
Drakensberg cranesbill
... Garden March 2014     Geranium drakensbergensis is an evergreen perennial herb with a neat ... segments. The flower is typical of Geranium species, a simple cup-shaped structure with five mauve petals. ... and with a flip fling the seeds a distance away. Geranium Geraniums are fairly easy to propagate and will root from tip or ...
17 / 03 / 2014 | Monique Mcquillan | Kirstenbosch NBG
Read More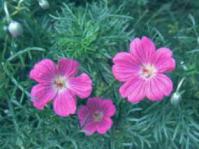 Common names:
Carpet Geranium; Horlosies, Vrouetee, Bergtee, (Afrikaans); ngope-sethsoha, tlako (Sotho).
... does flower better and form a tighter carpet in full sun. Geranium incanum can be used very effectively on banks or as a colourful ... be found scrambling about through natural vegetation. Geranium Geranium incanum is easily propagated from both seed and cuttings. ...
26 / 11 / 2001 | Andrew Hankey | Walter Sisulu NBG
Read More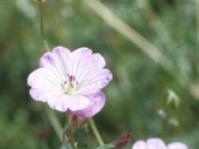 Common names:
crane's bill
... Botanical Garden December 2001   Geranium multisectum is a lovely, soft herbaceous perennial with masses of ... attractive soft foliage throughout the year.  Cuttings of Geranium multisectum were collected in the Drakensberg a few years ago and ...
31 / 12 / 2000 | Liesl Van der Walt | Kirstenbosch NBG
Read More